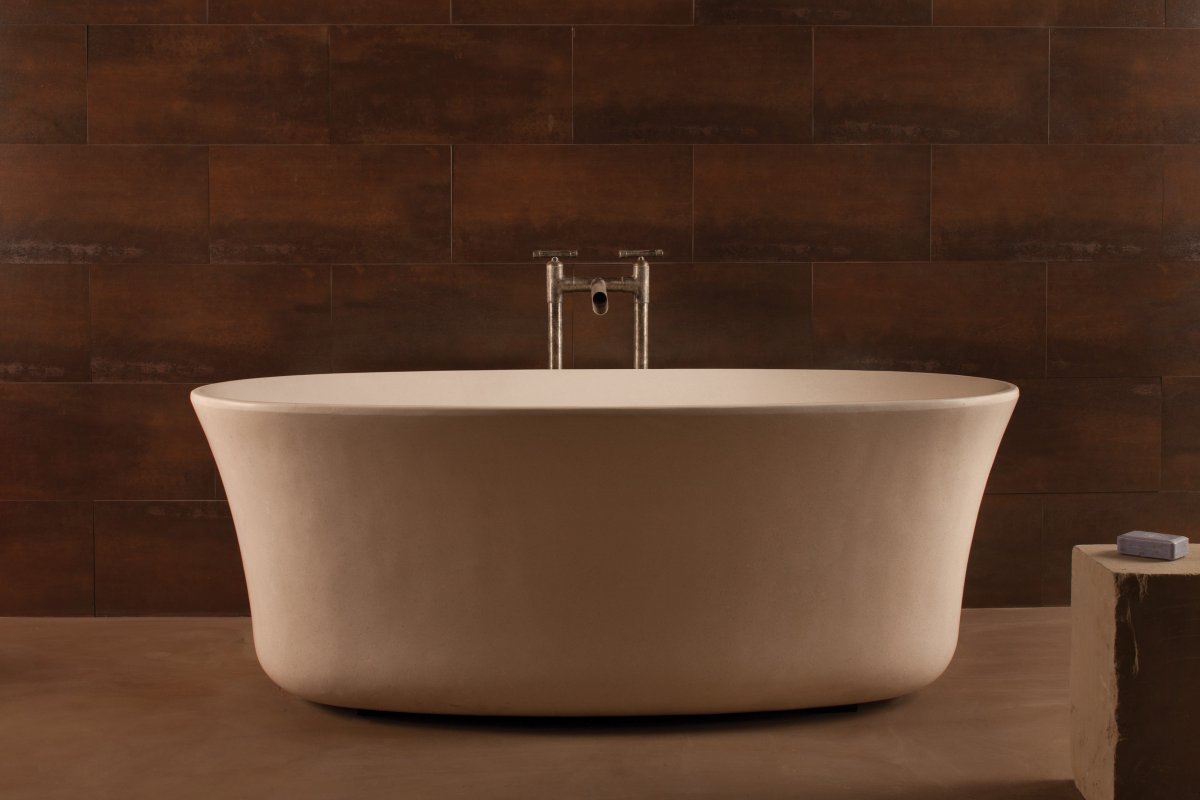 Bathroom furniture maker Ronbow has unveiled its new Forma Collection, its second collaboration with legendary Pininfarina, the Italian car-design firm known for its work with Ferrari, Alfa Romeo and Maserati, among others. (The first collaboration, the Vento Collection, won a 2016 Good Design Award.) This new collection, part of Ronbow's Signature Series, is designed by Paolo Pininfarina and inspired by nature—specifically strata, or the layering of sedimentary rock and soil. "In creating the FORMA, we have executed an innovative piece that lives up to the Pininfarina vision, which emphasizes precise, cutting-edge Italian design and engineering," said Jason Chen, founder and CEO of Ronbow. The curving shapes of the pieces ("forma" is Italian for "shape") are made of solid wood construction and layers of hardwood carefully fitted together. "The vanity is an extension of the Pininfarina lifestyle," said Paolo Trevisan, Head of Design for Pininfarina of America in Miami, "from the curves of the architectural structures to the heritage performance of sleek auto design, offered as a unique home living experience." Plus, it offers terrific storage, incorporating a hidden built-in drawer and storage compartments. The Forma vanity is available in 42- and 66-inches, and in two finishes: Bleached Oak and Carbon Black. Matching mirrors feature integrated speakers that connect via Bluetooth to your smart devices.
For over twenty-five years, Stone Forest has sourced the world's finest materials and shaped them into some of the most outstanding kitchen and bathroom designs. Three new bathroom designs—the Marquina Taupe Renaissance Console sink, the Cerne Lav basin, and the Calma bathtub—perfect reflect the company's ethos. The Marquina Taupe is a classic vanity sink with a Marquina marble basin that is carved from a single block of stone, making every sink unique. The marble, which is also available in a honed finish, is beautifully colored with brown and purple hues, and highlighted by dramatic white veins. Traditional console legs, in either aged brass or polished nickel, heighten the old world feel of the design. Old-fashioned console legs in aged brass or polished nickel, and bring a historic feel to the bath. The Cerne Lav sink is similarly carved from a single block of marble, this time with Luna Bianca Oro, which is white with subtle veining in gray, gold and brown. The bowl, which features a carved lip, is designed to be versatile: it can sit atop a vanity or drop into the countertop. It's also equally at home in contemporary and traditional style bathrooms. The sculptural Calma tub is available in limestone or Marquina marble. The gentle oval of the interior offers tremendous comfort, and with stone that stays warmer longer than porcelain, you'll be all the more relaxed.
Electric Mirror has just announced that all of its new residential orders for lighted mirrors placed through our dealer channel will receive LEDs at the base price—there will no longer be an extra charge for upgrading to LED. The company's easy-to-replace channel LEDs are the new standard and offer an increased brightness and a 50,000-hour lifespan. The firm's proprietary Keen technology enables users to control the lighting directly on the surface of the mirror, with easy touch-controls for on/off, dimming levels and a night light. As well, the Novo, Novo-4, Serenity and Silhouette mirrors now come standard with built-in internal diffusers that give the designs a more finished and glowing side view. Check out our previous post to learn more about all that Electric Mirror offers.