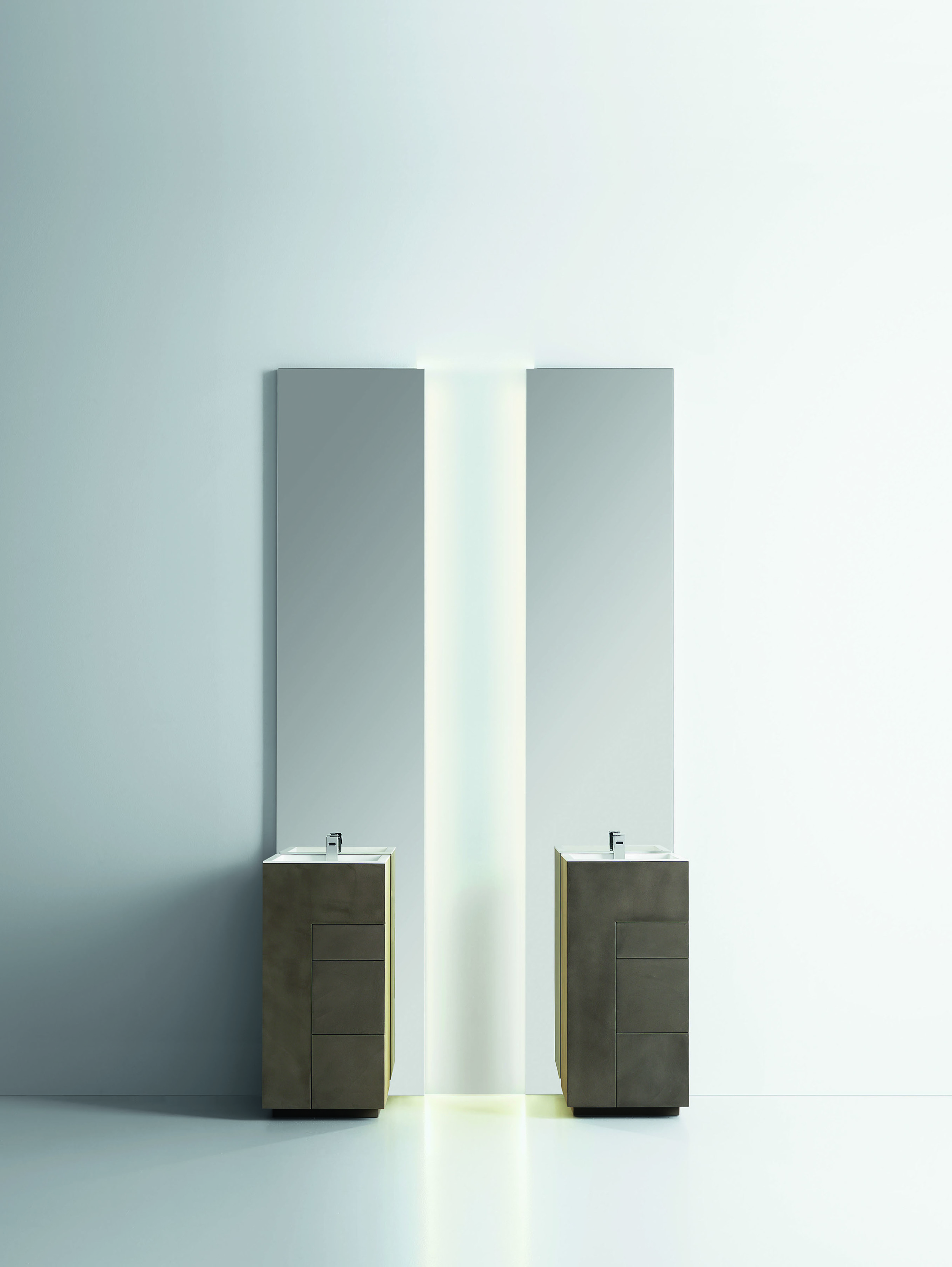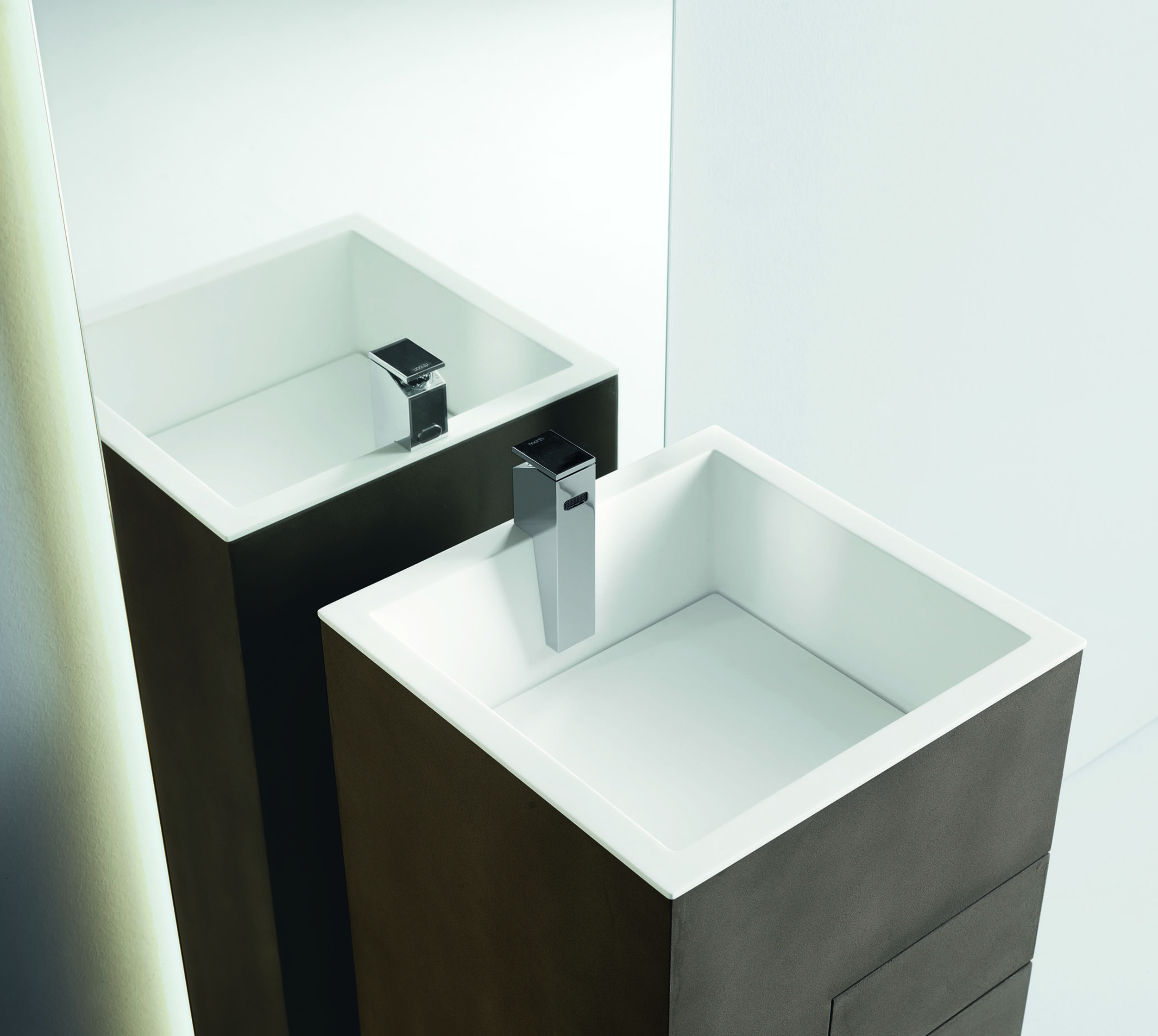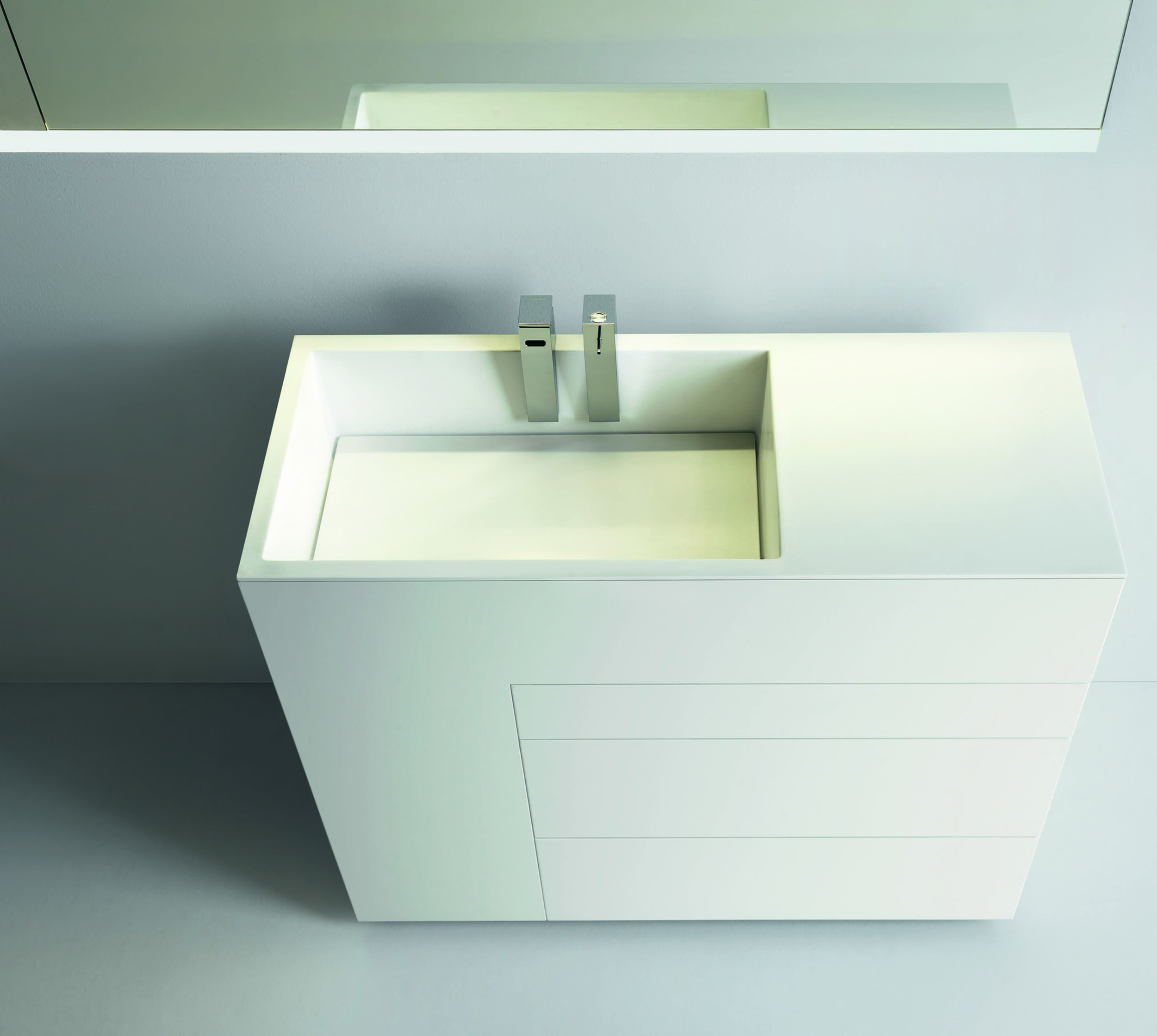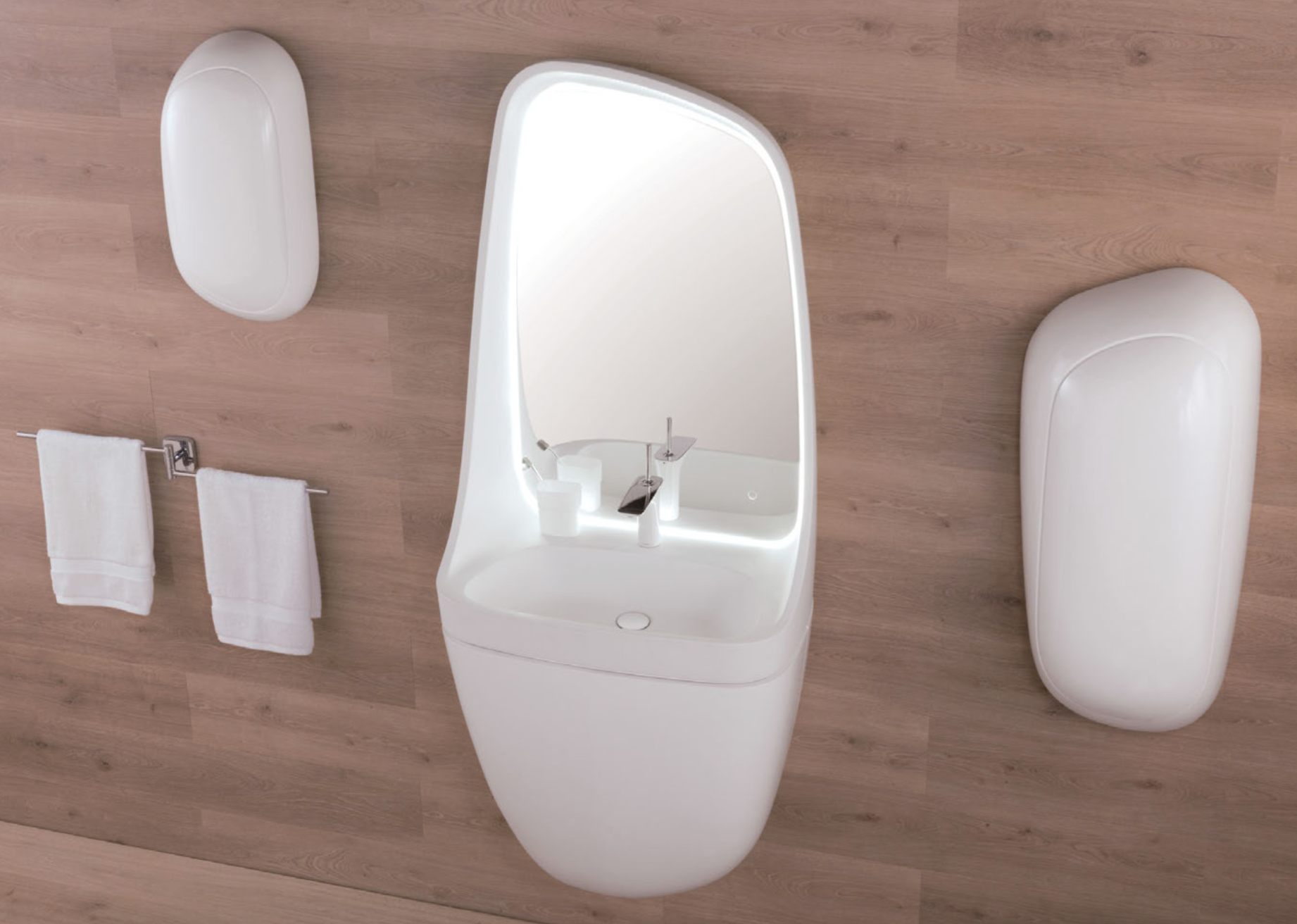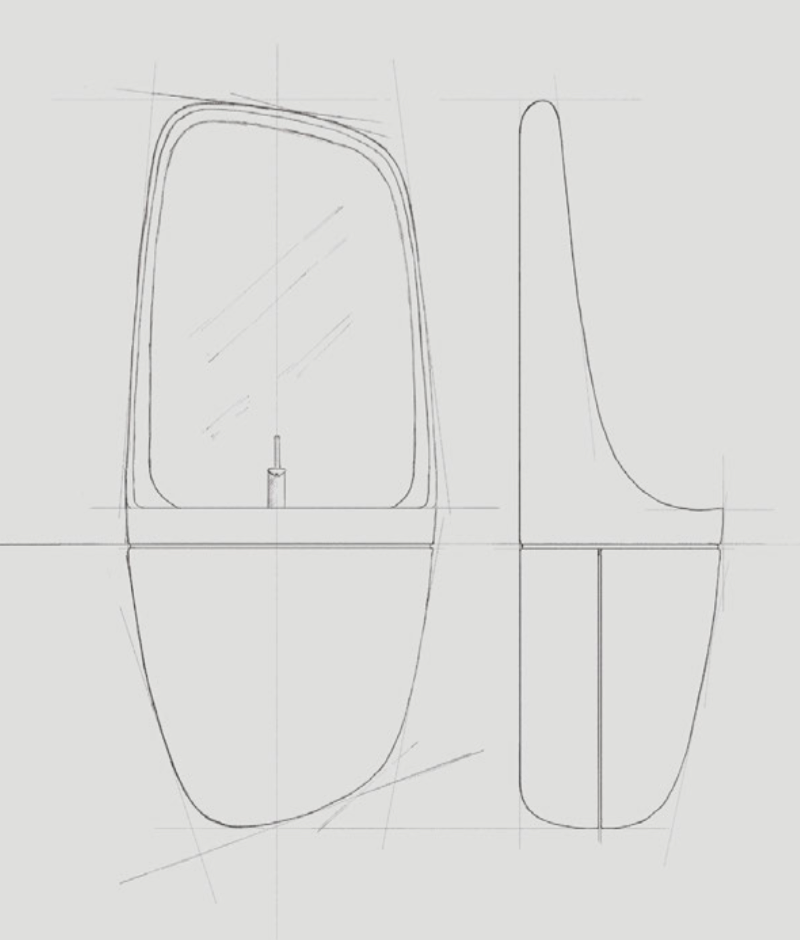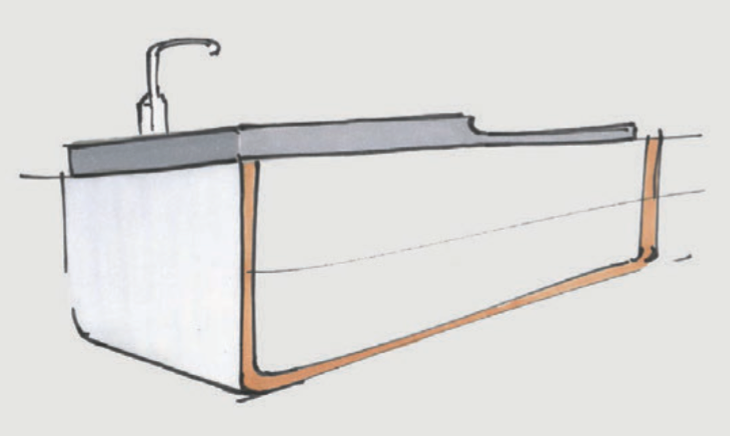 We've posted recently about bathrooms trending towards more luxuriously furnished spaces than ever before. With the growth of the wellness category (hammams and chromo therapy, for example), has also come a flourishing of smarter styling and interesting materials not usually associated with wet rooms. As Snyder Diamond owner, Russ Diamond, found at Salone del Mobile/EuroCucina in Milan last spring, leading manufacturers are developing new lines that emphasize the blending materials like wood and metal. This week we're bringing you a round up of new products from Italian firm Milldue (pronounced mill-DU-ay), Atlanta-based Furniture Guild, and California firm Ronbow's Signature Series, developed in collaboration with renowned international designers. And they're all products you can feel good about too; as all three firms are committed to sustainability, clean energy, and creating safe, non-toxic products for the home.
Milldue exudes Italian style and craftsmanship. The company was founded in 1976 by furniture maker Mario Brescacin, who brilliantly translated his furnishings skills into a focused application for the bathroom. Today it's Mario's sons Giorgio and Stefano who bring an eye for contemporary design to the firm, especially when it comes to sophisticated new materials and woodworking technologies. Today's collections are focused on functionality and practicality, with an emphasis on lacquered finishes that highlight the clean lines of the minimalist forms. New to our showrooms is the Touch collection, developed in collaboration with interior designer and kitchen specialist Michele Marcon. The sleek, block-form vanities incorporate such materials as wood and clay.
The Furniture Guild, founded in 1984, brings together an incredible group of American artisans who painstakingly and lovingly craft an impressive range of bathroom collections that truly offer something for everyone: contemporary vanities inspired by European style; traditional collections that form the core of the company's catalogue with more than forty customizable designs and finishes; transitional designs, which offer 7 uniformly built styles that offer terrific value; and custom work that extends beyond bathroom furniture—they've even built dining tables for local clients. Our slideshow includes images from their booth at the 2016 International Contemporary Furniture Fair (ICFF), where they debuted their latest designs—notably on-trend cabinetry melding beautiful woods with bold metal accents.
For over twenty years, Ronbow has been producing case goods, vanities, hard surfaces, sinks, and accessories from their Fremont, California, headquarters. The company's versatile designs allow for easily interchangeable sinks and countertops within their distinctive collections but this year they've launched a brand new endeavor, which some of you may have seen at Dwell on Design in June. The new collection, Signature Series, is comprised of eleven collections by 9 designers from 6 European countries and marks the first time Ronbow has partnered with designers on such a large scale. It's a brilliant collaboration of creativity and passion that's resulted in diverse showcase of luxury-driven products. Included in the projects are: Phoenix Design from Germany (Stack & Wide Collection); Pininfarina from Italy (Lucido Collection); Kurz Kurz Design from Germany (Pure Collection); Matteo Thun from Italy (Classic Collection); DanelonMeroni from the UK (Free & Brit collections); Ramon Esteve from Spain (Frame Collection); Joan Lao from Spain (Waterspace Collection); Ora Ito from France (Shell Collection) and Alexander Zhukovsky from Russia (Unity Collection). We're sharing a selection of images above but to view the collections in their entirety, visit Ronbow's especially devoted site by clicking here.