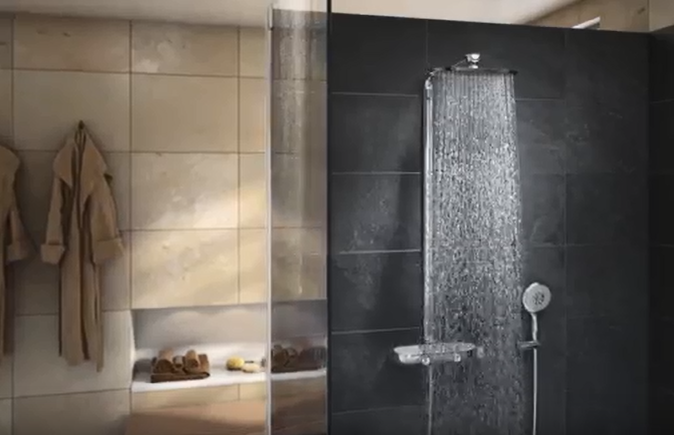 You can probably tell at first glimpse that the one-of-a-kind Wheel pull-down kitchen faucet from Waterstone Faucets was inspired by a ship's wheel. The innovative (and fun!) design is on view in our Santa Monica showroom, and includes accessories like soap dispensers and disposal buttons for a completely unified look. The Wheel collection is constructed of solid brass and available in thirty-three finishes. The easy-pull handle is controlled via springs and has a braking system that prevents a too-quick snap back. The handle extends twenty feet from the spout, and can be set for a spray or aerated stream. For those of you interested in American-made products, Waterstone is based in nearby Murrieta, in Riverside County, where owner Chris Kuran, a former Marine, takes tremendous pride in offering manufacturing jobs for the local community. The company, which was founded in 1999, has even garnered a celebrity clientele, including Taylor Swift, who was seen in her kitchen with the company's Gantry sink in a recent video for Vogue magazine.
It may be October but since we'll be enjoying the outdoors straight through winter, we're showing you the Kalamazoo Gaucho Grill. The design melds modern convenience with traditional Argentinian asado, or barbecue. The Santa Maria-style grill features a powerful gas starter system that quickly ignites a wood fire. A 30-inch spoke wheel glides on a chain-driven mechanism, effortlessly adjusting the height of the food above the fire: high above the flames for lower-temperature cooking and closer to the grill rack for searing heat. The deep firebox design creates an even heat circulation and funnels ash into an easy-to-empty bin. Each grill is built to order by Kalamazoo's skilled and dedicated craftsmen and will last a lifetime. For a little inspiration, check out noted culinary writer and television host Steven Raichlen prepared a 22-pound prime rib on the Gaucho Grill in a recent episode of Project Smoke. Warning: If you're hungry and a "card-carrying carnivore" as Julia Child once said, this is going to be VERY difficult to watch!
German bathroom fittings manufacturer Grohe, long at the forefront of tech-driven designs, has just released its new SmartControl shower system. The intuitive control lets you choose the outlet, water flow and temperature precisely as you desire, creating a personalized and luxurious bathing experience. Operation is simple and easy for the whole family. You simply push to start and stop, then turn to adjust the water flow. Thanks to the company's unrivaled TurboStat technology, water is delivered at the desired temperature within a fraction of a second, and it keeps consistent for the duration of your shower. It's CoolTouch chassis prevents scalding and features a removable safety glass tray for easy installation and service. (It also serves as a handy little shelf for small shower necessities.) The SmartControl can be partnered with a range of shower head and handheld designs within Grohe's extensive catalogue, and has been designed with swift and simple installation in mind. The device is available in chrome or brushed nickel. To see our post on Grohe's Aquatunes bathroom music system, another cool gadget, click here.