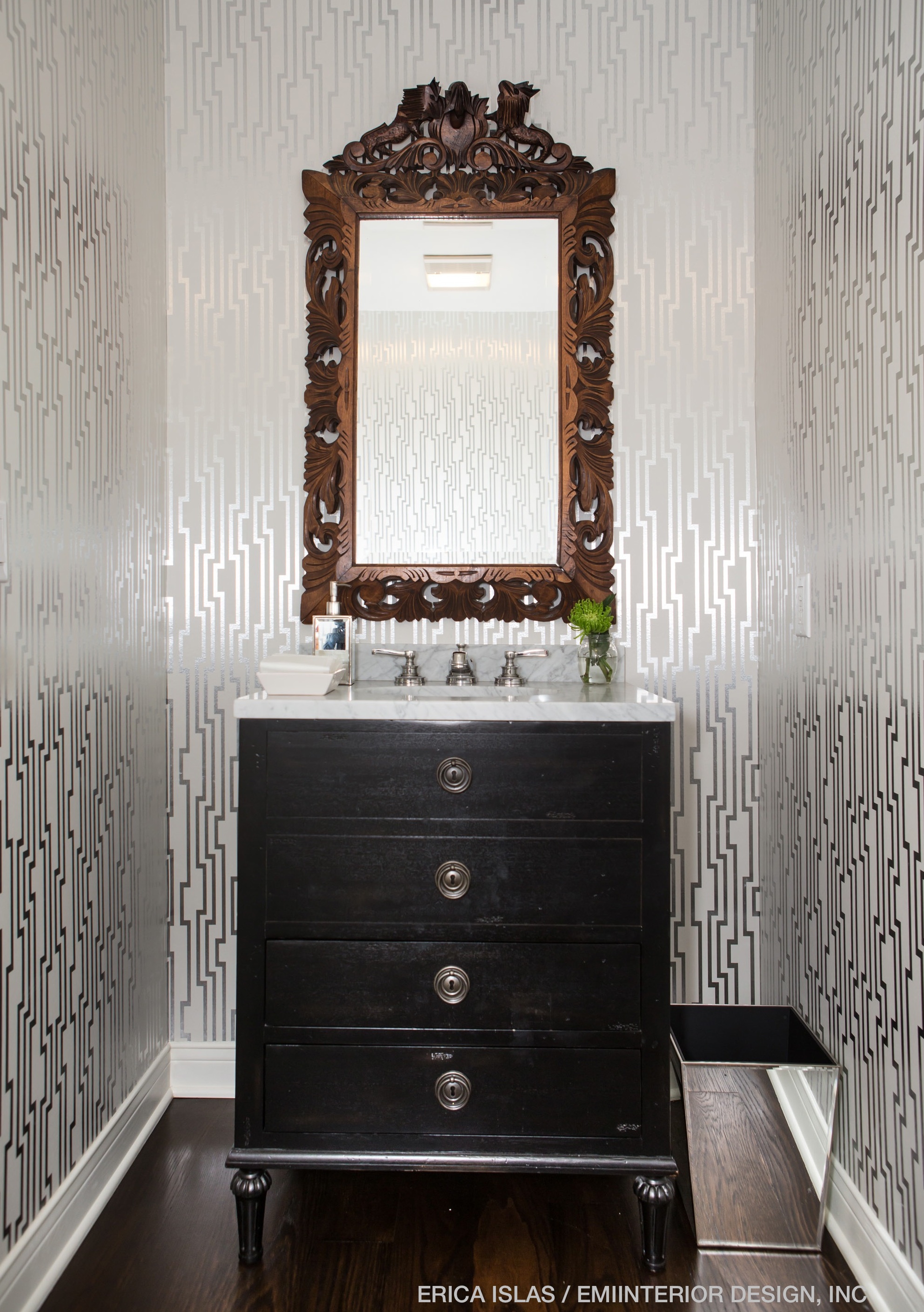 For designer Erica Islas, simply creating beautiful spaces isn't enough—she also has a contractor's license, making her firm, EMI Interior Design, Inc., a full-service design and build company. The combination gives the designer greater control over both the quality and timeliness of her installations, as well as a greater understanding of structure and materials. And materials, especially the blending of natural stone, wood, metal and glass, are something for which she's become known. The designer, who may look familiar from her work with HGTV (her work has also been featured in Real Simple, Dwell and the Los Angeles Times), can bring her deft touch to any area of the home but she's particularly interested in kitchens and bathrooms. "Kitchen and bathroom renovations are my favorites," she admits… making her a perfect fit for our Designers We Love column. Read on to learn a little bit more about what makes this young designer tick:
How would you describe your aesthetic? My design aesthetic is timeless yet modern: clean lines and layered but unfussy. I love to incorporate textures, patterns and color in unexpected ways. Mixing the old with the new, and juxtaposing elements.
How did you get started in the business? It's a LONG story! I grew up going to my dad's jobsites (he's retired now but was a general contractor). I had a Crayola interior design drafting kit back in the '80s and played with it for hours. When I got to high school, I took drafting as my elective—I thought I wanted to be an architect. I took architecture and more drafting classes in college, and then worked for an architecture firm for four years. It wasn't until I got a job at an interior design firm that I knew THIS is what I wanted to be doing… I worked there for 2 years then opened up my own firm in 2000–that was 15 years ago!
Where do you find creative inspiration? EVERYWHERE! I'm constantly inspired. From travel and art, to nature, music, movies and fashion. There's always something that triggers my creative flow. My drive on PCH to clients' homes and the views from their homes is also incredibly inspiring, but mostly I find creative inspiration in collaborations. I LOVE bouncing ideas around with other trades and clients. It's inspiring to see how an idea grows and takes shape.
If you could reside on a Hollywood film set from any era, what would it be, and why? Oooh! The Devil Wears Prada, for sure. I love Miranda Priestly's Office—it's cool, crisp and perfectly tailored. It's timeless. The fashion, of course, would be a perk!
What takes a kitchen or bath from ordinary to extraordinary? This is my favorite subject! It's so hard to pick just one thing… It's a combination of things, really, but it's the finishes, of course… luxurious finishes such as natural stones (limestone and marble), exotic woods and artisan tile will instantly take a kitchen or bathroom up a notch. Lighting is also VERY important and should be first on the list. Proper lighting and an amazing decorative light fixture will give any space "wow!" factor. Also, technology! Using state of the art technology in appliances and fixtures in both the kitchen and the bath is a must have in this day and age. Great design is really about the ability to meld timelessness with modern sensibilities.