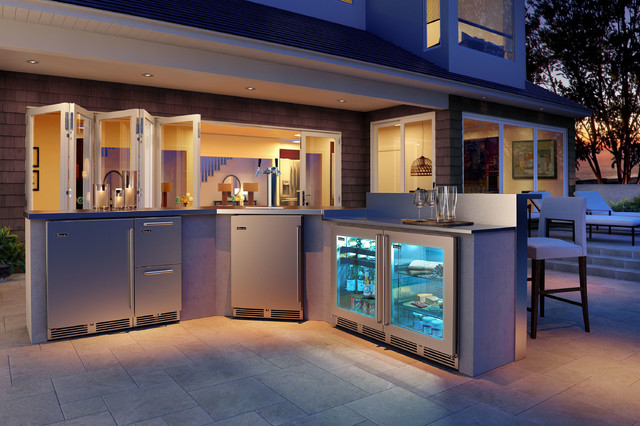 With El Niño being something of a no-show thus far, our thoughts have turned to summer—lazy weekends, outdoor dining and the coolest little hot tub we've ever seen. The Minipool, which debuted in 2014, is the first overflowing-rim design from Zucchetti. It's round and sculptural (dare we say cute?), and available as a built-in or as a freestanding unit. Ludovica+Roberto Palomba, the Milanese architects behind all of the Italian firm's products, designed the Minipool with an interior circular bench that seats up to six people. Inside, adjustable jets let you create your ultimate hydro massage, while colorful LED lighting lets you experiment with chromo therapy. An internal tank assures constant filling and automatic water return.
Perlick's new Sottile refrigerators are the world's first 18-inch-deep under counter refrigerators, made for indoor and outdoor use. The mighty little fridges maximize every inch of their footprint, hold up to a whopping 41 cans and 28 bottles. A digital temperature controller maintains a 33° to 42°F range, while LED lighting and pull-out shelves make it easy to use. All models feature stainless steel interiors but the door design is up to you: solid stainless, wood, stainless and glass, or wood and glass. Factory-installed locks are also an option.
When Blu Bathworks introduced the latest addition to its Electronica digital tap collection, the Vision Wheel shower control, people took note. Not only did it win Architectural Record's Record Products for 2015, it won Bathroom Product of the Year at the K+BB's Product Innovator Awards 2015. So what is it, exactly? It's a thermostatic digital shower control. The Swiss-engineered system gives you touch control over temperature and usage: the wall-mounted unit delivers precise temperature regulation and flow rate data, with the company's special "GreenIndicator" that displays actual water usage. Up to three personalized settings can be programmed, and an app allows you to control the system via your smart phone. The control is available in polished chrome finish, high-gloss black, or high-gloss white.