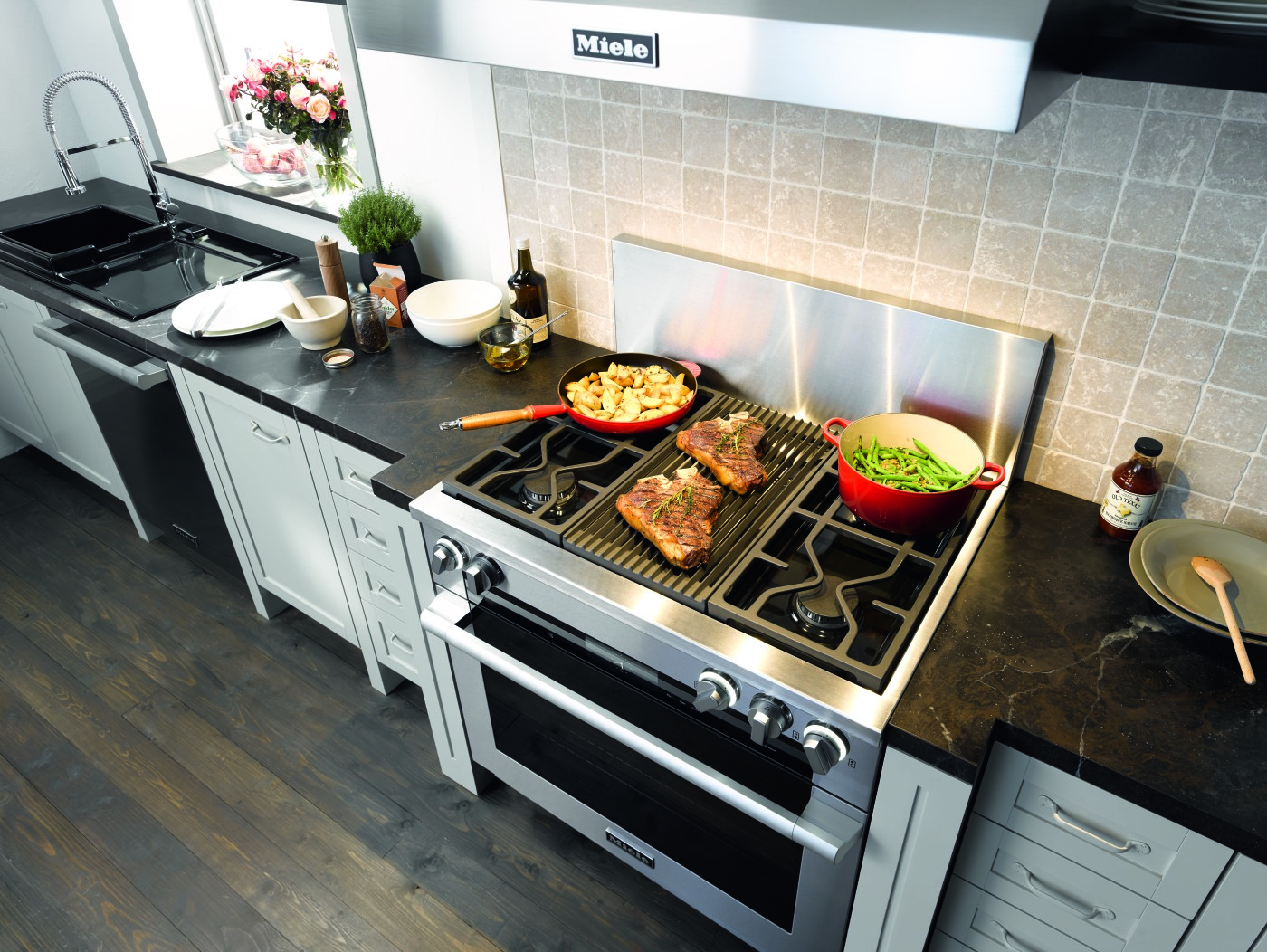 It's been a big year for German appliance manufacturer Miele, the largest family-owned and operated firm in the industry. In January, they launched their first-ever range series, in May they won not one but three coveted Red Dot design awards, and just this month they debuted a striking collection of induction cooktops. And while we anxiously await all they will unveil in 2016 (their motto is Immer Besser, or ever better, after all), it's time to celebrate the achievements of this year with a post devoted to these two spectacular product additions, available at our showrooms.
The range series, of which the HR 1956 Dual Fuel model is the flagship, was in development for some 8 years (Miele's first oven debuted in 1974) and is designed specifically for the American market. It offers intuitive controls like a pop-up touch panel and backlit knobs, sleek and sturdy professional styling, and the technology and power one expects of today's appliances. The range includes a convection oven and the company's MasterChef and MasterChef Plus systems that provide over 100 semi-automatic culinary programs and 15 fully automatic bread programs, respectively. A wireless roast probe and steam-burst settings ensure a perfectly cooked… anything, be it a holiday roast or a holiday pie. The cooktop's options, which can be configured in a variety of ways, include the M Pro dual stacked burner system (up to 19,500 BTUs and TrueSimmer setting), a high-power grill and an infrared griddle. Due to its variety of sizes (30, 36 and 48 inches), it's right at home in any kitchen.
If it's not a range you're after, the company's new induction cooktops offer all the same technology, performance and ease in a more compact form. How do they work, exactly? We'll let Miele explain: "Induction cooktops create a magnetic field that turns cookware into the heating element to deliver a high level of precision, power and efficiency." Incredibly adaptable, the cooktop comes in 24-, 30-, 36-, and 42-inch models, and can be designed in any number of configurations. As well, the 30- and 36-inch options are available without the metal frame, allowing them to sit flush with the counter for a super sleek look. Another novel aspect of the cooktop is its unique "burner" sizing: a 9x15-inch zone allows large pots or casseroles to heat evenly on the surface. As for safety, whether you're simmering or searing, the "non-burner" areas of the surface remain cool to the touch, and if you have to step away for a minute, a Stop & Go feature will automatically lower the setting.
For even greater kitchen connectivity, Miele's smart ventilation hoods (which also saw new additions this year) can work in partnership with the ranges and the cooktops, turning on and off in sync. Clever, Miele, very clever. And to help with kitchen clean-up, check out our previous post on Miele dishwashers.