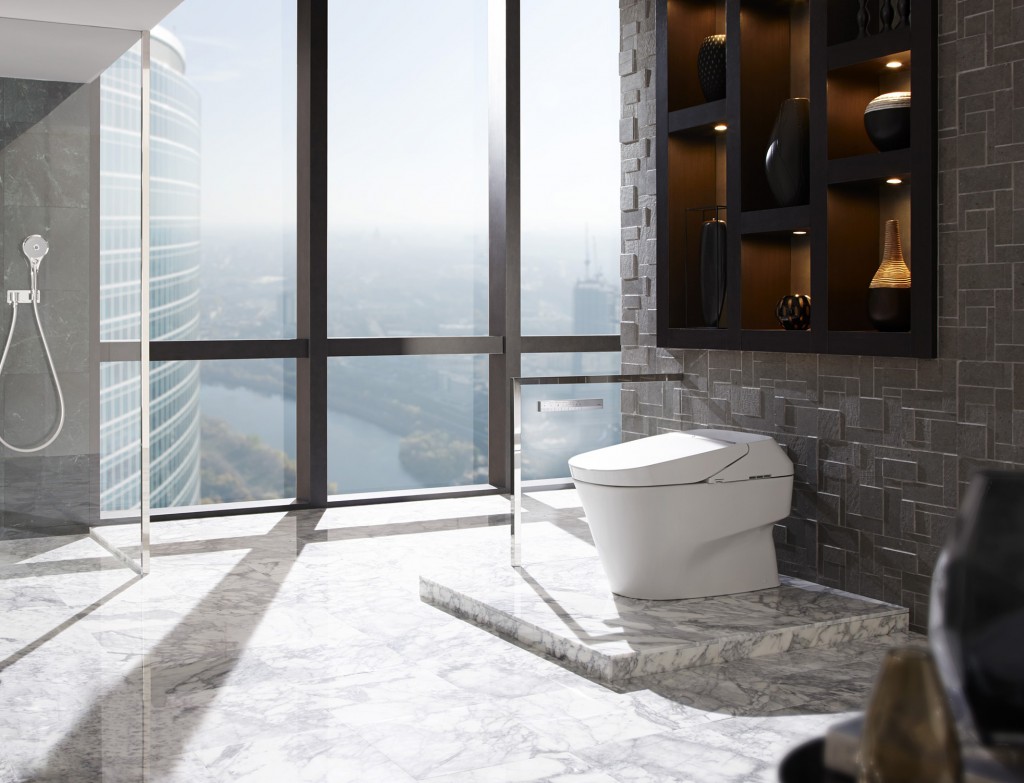 TOTO's new Neorest 750H toilet is one of the most exciting advancements in bathroom technology. And if its name sounds more like a luxury sports car than a toilet, there's a reason: this is one high-performance machine.
The company, which was founded in 1912, first began marketing the 750H's predecessor, an electronic toilet seat called the Washlet, in Japan in 1980 and in the United States in 1989. Although some seventy-five percent of Japanese households took to the technology, America was slow to embrace it.
The traditional bidet has, of course, long been popular in parts of Europe, while electronic washers have taken hold in Asia, the Middle East and South America. Why have we Americans been so stuck on cleansing with paper, a limited and expensive resource? Granted, water is an extraordinarily limited resource for us too but the 750H uses both water and electricity in remarkably efficient amounts. Think about the effort (let alone the deforestation) that comes from producing vast amounts of toilet paper. One study showed that the average American annually uses enough toilet paper to stretch 2.8 miles. That's A LOT of loo roll!
So what, exactly, does the Neorest 750H do that makes it so special? Let's break it down:
The toilet's design was inspired by modernist architecture so it's good looking, and at 17-inches high it's a little taller than the average john, making it a more comfortable seat.
It opens and closes hands-free thanks to sensor technology, and it flushes automatically upon your departure.
The seat boasts special massage and warming options (yes, we giggled too).
Two adjustable, self-cleaning spray nozzles positioned at the front and back of the bowl give you a healthy rinse at your preferred temperature before the dryer function (also set to your preferred temperature) takes care of the rest of this delicate business.
As well, this clever toilet has a memory and will anticipate your, ahem, typical arrival time and mist the bowl before and after use, ensuring a very thorough flush, even if you have low water pressure.
Only one gallon of water is used for a full flush, even less for a light flush.
There's even a deodorizing function.
And if that's not enough, the 750H uses the UV light emitted when the lid is closed to clean itself. What? Yes. Here's a better explanation: "The porcelain glaze is fired with titanium dioxide (the photocatalyst) and zirconium oxide for increased durability and a pearlescent shimmer. Activated oxygen is produced when ultraviolet light interacts with the glaze. This breaks down organic waste and reduces the food source that microbes (germs) feed on." So, it's self-cleaning, saves water and doesn't require harsh chemicals. Pretty cool.
Lastly, the entire system is operated via programmable remote.
See why we're in love? The Neorest 750H is really everything you've ever needed in a toilet... you just never knew you needed it. So make way for the all-new, high-tech bidet, L.A. It's the new must-have. Come visit our showrooms to see the Neorest, as well as TOTO's incredible line of bathroom products, like the sleek Aero shower system that we blogged about last fall.