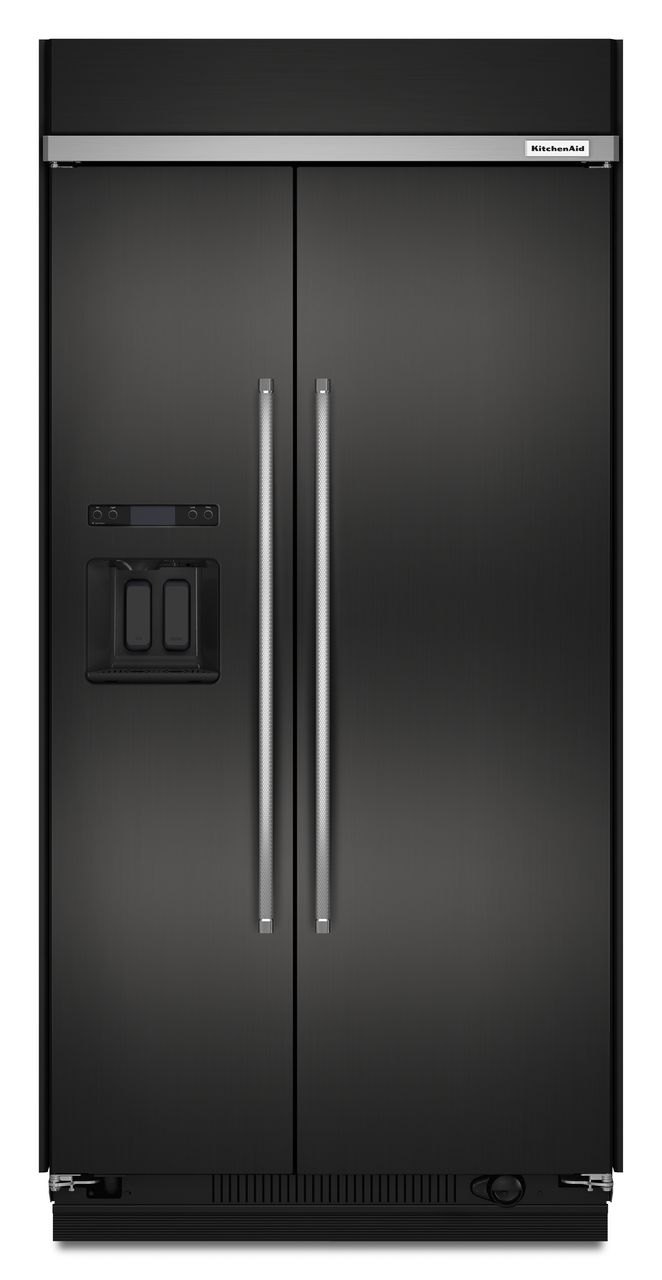 KitchenAid may be most famous for its iconic 1930s mixer design but the brand has taken a decidedly contemporary turn with the debut of its latest finish: black stainless steel. The sleek new look, the first of its kind in the industry, was inspired by professional kitchens but offers a warmth and non-industrial feel that makes it highly adaptable to homes of any style. The finish, which combines the satiny luster of brushed steel with a warm, neutral tone, also decreases the appearance of fingerprints—something every homeowner can appreciate.
"Perhaps the biggest compliment is hearing designers say they wouldn't even think about using panels to cover these appliances, a common practice for those who want professional-style appliances but not the stark, commercial look of stainless steel," says Patrick Schiavone, Global Vice President of Design for parent company Whirlpool Corporation. Other new design elements include KitchenAid brand medallions, available in their signature red or other colors, that cap the handles on this latest collection of refrigerators, wall ovens and dishwashers. The medallions are inscribed with the brand's name and its founding year, 1919—a finishing touch that's almost reminiscent of a wax seal. Additional details include handles etched with a crosshatch pattern that improve grip and chrome-inlaid frames that highlight the transition between surfaces like glass and metal.
The newly styled suite is also available in white, black and traditional stainless steel but as you scroll through the images, keep in mind that that KitchenAid's other key color is pink. For nearly fifteen years, the company has partnered with Susan G. Komen on its "Cook for the Cure" campaign, an effort that's raised over $10 million for breast cancer research.
And for a little fun with celebrating the the new black stainless option, available through our showrooms, we've culled a few of our favorite quotes on the statement-making color.
"I've been 40 years discovering that the queen of all colors was black." Pierre-Auguste Renoir
"Every room needs a touch of black, be it a Chinese lacquer coffee table, a picture frame, a porcelain vase lamp, or a needlepoint seat on a special pull-up chair. Black tends to give gravity to a room." Carlton Varney
"You can wear black at any time. You can wear it at any age. You may wear it for almost any occasion." Christian Dior
"I wore black because I liked it. I still do, and wearing it still means something to me. It's still my symbol of rebellion against a stagnant status quo… against people whose minds are closed to others' ideas." Johnny Cash
"I love black because it affirms, designs and styles." Yves Saint Laurent
"Black is such a happy color, darling!" Morticia Addams