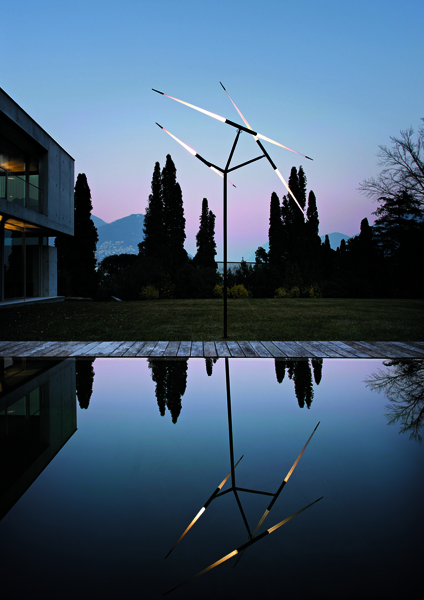 As we revel in the full height of summer, we asked Santa Monica-based kitchen and bath designer Laurie Haefele for her thoughts on how to create the ultimate outdoor kitchen and entertaining area—something that truly exemplifies Southern California living. Haefele herself is a fan of the great outdoors and is always prepared for impromptu summer evenings with friends. "I have a pizza oven on my patio and I always have my outdoor refrigerator stocked and ready with dough, toppings, and of course wine!" From color ideas to her favorite products, read on for the award-winning designer's top ten tips.
1. Location, location: An outdoor kitchen should be in an area of the home that is comfortable and that can easily host a group of guests.
2. Design the space to be well organized and functional as outdoor kitchens are often located in small areas—everything needs to be compact and easily accessible.
3. Color palette: Consider neutral tones with pops of color. More color can be easily added through throw pillows or brightly hued dishware.
4. Comfortable outdoor furniture—the more comfortable the better! An outdoor space should be somewhere to relax.
5. Think about including a bar station, as this will help keep guests from coming in and out of the house.
6. Two of my favorite appliances to recommend are Kalamazoo's pizza ovens and their new Argentine gaucho grill.
7. It's nice to have heat lamps for cooler nights, or a fire feature for aesthetics. I especially love the designs from Cocoon Fires.
8. If you live in a warmer climate, think about adding a misting system. It's the most subtle way to cool off an outdoor space.
9. Outdoor lighting can bring a space to life and set the mood for the evening. Think about spotlights in your landscape, tabletop lanterns, illuminated steps or stones, or installing a sculptural fixture like Luce Plan's Javelot Macro design.
10. Most importantly, be prepared! Stay stocked with your favorite items so that the space can be fully enjoyed at a moment's notice.
To learn more about Laurie Haefele's background and design aesthetic, check out the Q&A she did with us for our Designers We Love column.