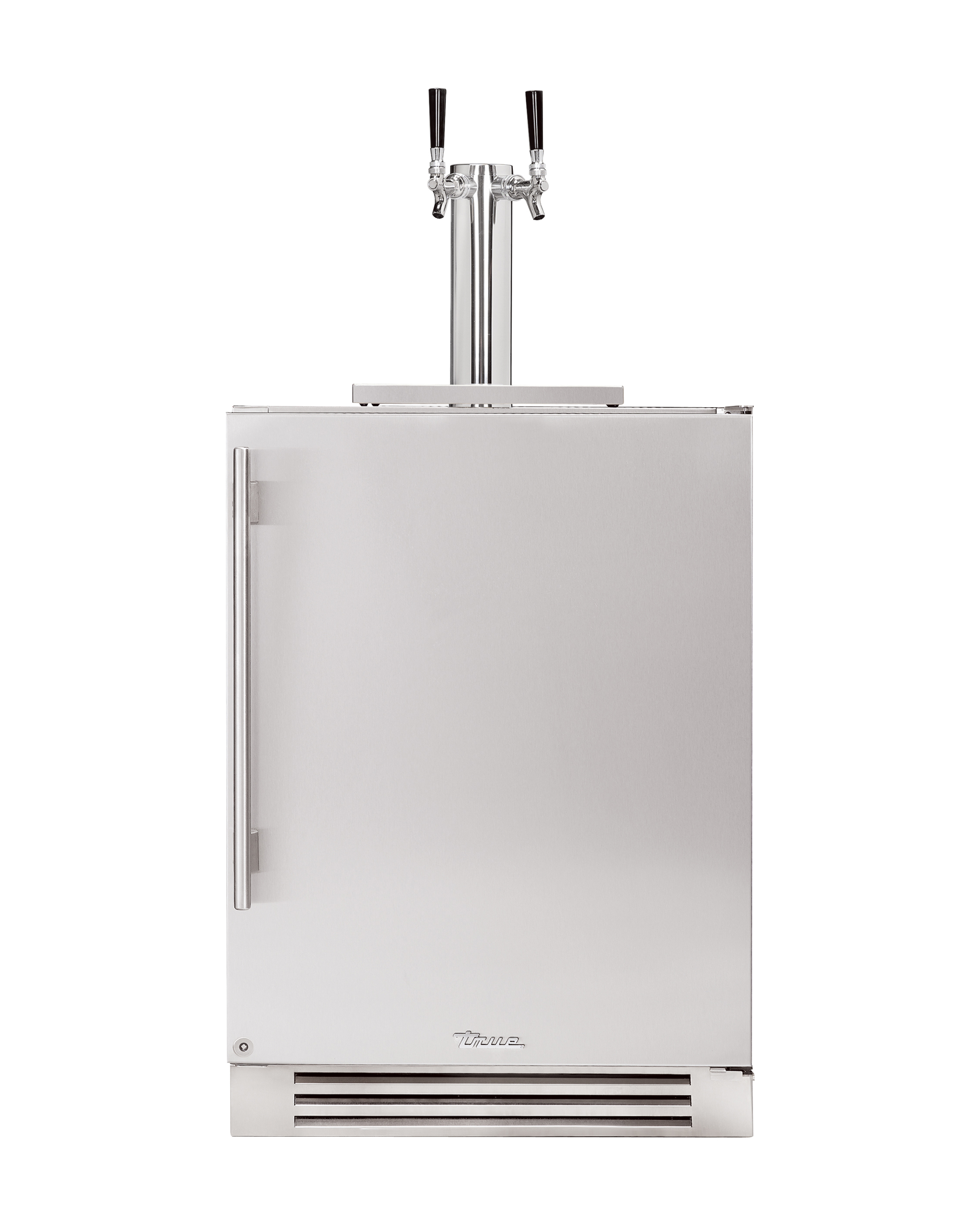 Summer is here and our minds are on spending time outdoors with family and friends. Though we have wonderful weather year-round in Southern California, there's something distinctly and deservedly special about the months ahead. Just the word summer elicits happy thoughts. So whether it's sipping, grilling or lounging you envision (or all three), we can help. Snyder Diamond has everything you need to make the most of your backyard, so this week we're bringing you a roundup of some of our favorite new outdoor designs.
The all-new Adara Signature Tower beer tap from Perlick is the industry's first decorative beer tower for residential use. Its curving chrome silhouette brings a modern European look to home bars. The tap features the firm's award-wining faucet system that allows the user to change the rate of the pour directly at the faucet with a simple lever adjustment. It's available as a single 15-inch model or as a double, with two 24-inch dispensers.
Jee-O is a Dutch design firm spearheaded by product designer Lammert Moerman. The company offers a range of bath, sink, faucet and shower designs (they even designed a super-cool bicycle) but we're loving their outdoor showers for summer. Whether you're looking for a post-swim rinse or to wash the sand off after a day at the beach, the minimalist design styles—there are several showerhead options—are beautiful in any setting.
The new stand-along, easy to connect cabinets from Brown Jordan just made outdoor kitchens a lot more chic, not to mention efficient. The stainless steel cabinets are available in some 200 styles, all designed to fit most outdoor appliances (grills, bartending areas, refrigerators, etc.). Aside from just making a more polished presentation, they offer terrific storage and organizational elements.
Hands down, Kreoo by Decormarmi is creating some of the most breathtaking marble bathroom collections and architectural tiles today. (We've blogged about them before, click here to read more.) The Italian firm specializes in stone, and has developed an innovative line of garden furniture to boot. The Grove bench is a modular seating system that features a backrest of Iroko wood poles, while the Pavé seating collection is inspired by stacked stones. A hand-sanded larch wood seat is secured atop a smooth marble base and yes, they're heaving and weigh in at about 200 pounds. Both the bench and the stools are available in a wide selection of natural marble colors.
Looking for the latest technology when it comes to grilling? Check out the Lynx Smart Grill. The wifi-enabled, voice-controlled system does nearly everything for you. It can suggest over 200 recipes and will send you a text alert when it's time to flip the burgers or grab the serving tray. The steel stunner, which was just featured in Modern Luxury's Interiors California magazine, truly makes summertime livin' easy.
Kalamazoo's Gaucho Grill turned heads when it debuted in Las Vegas last year, and for good reason. The Argentine-inspired grill has a gas-powered starter burner that quickly ignites wood or charcoal, a rotisserie, a deep-hopper funnel that removes ash, and multiple cooking surfaces designed for meat, fish and vegetables. It's the ultimate Santa Maria-style grill. If you'er looking for something smaller, check out Kalamazoo's Artisan Fire pizza oven. It's stainless steel and gas-fired, and sits directly on the countertop—no installation required, just plug it in. It can also be combined with other elements to create an entire pizza station. It's speedy too. Once preheated, it'll have pizzas ready in just three minutes.
Another great portable pizza oven option is Alfresco's Pizza Oven Plus. The company, as you might guess by its name, is devoted to outdoor cooking technology, so whether you're looking to do pizzas, steaks or even baked dishes, this oven's got you covered. And since summertime is also baseball season, can you guess which former MBL player has one at his house? (Hint: he's the all-time Yankees hit leader and was named team captain in 2003.)
We featured Wood Stone Home ovens on our blog a few weeks ago but couldn't do this roundup without them—they just have a way of inspiring the perfect outdoor gathering. Their performance-driving designs are available with wood fired, gas fired or dual wood-and-gas systems, making them a favorite for chefs like Bobby Flay, Tom Colicchio, Katie Lee and Wolfgang Puck.
American manufacturer True produces some of the industry's most high-tech refrigeration systems, and offers a beautiful selection of products for outdoor kitchens. One of our favorites is their draft beer dispenser (available with single or dual taps), and we also love the Clear Ice Machine, possibly the sleekest-looking ice machine ever built. The under-counter unit is the highest-performing, most energy-efficient icemaker on the market.
Dome is the striking new remote controlled patio lamp and heater from Belgian company Heatsail. The arching design features a 3,000-watt infrared heater and a 100-watt halogen lamp. Available in high-gloss black, matte black or high-gloss white, it's flattering light and cozy warmth let you enjoy summer evenings even longer. Look familiar? It was just featured in the May issue of Architectural Digest.
From all of us at Snyder Diamond, we wish you a safe and happy summer!