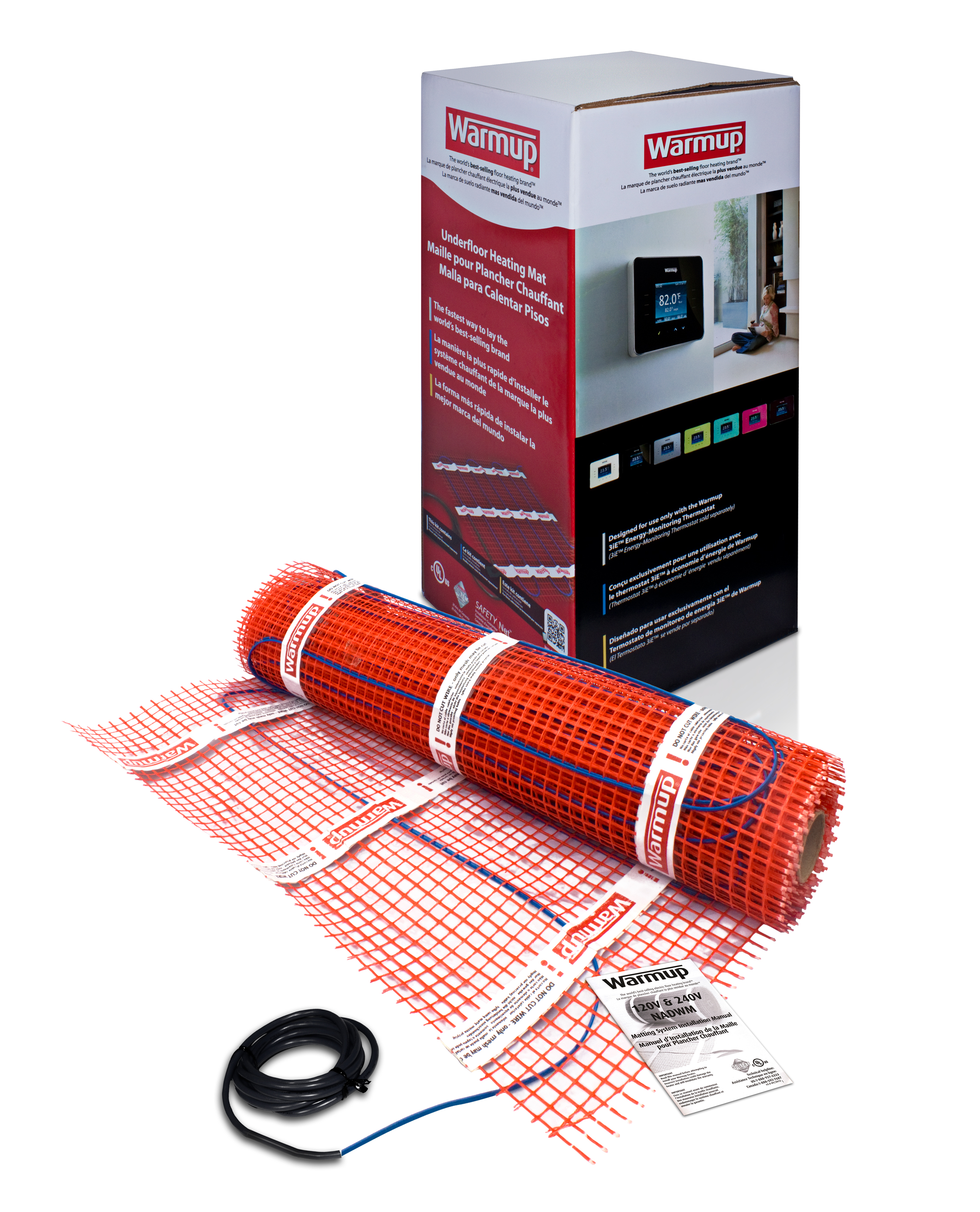 Just because we live in sunny California doesn't mean we don't get cold. So if you're looking to warm things up, check out Warmup, a twenty-year-old British company that's become the leading manufacturer of smart (and easy to install) under-floor heating. The research-driven firm has a testing center in Germany, as well as test houses around the globe, so it's no wonder they've sold over two million systems in sixty countries. We're happy to offer them at Snyder Diamond.
So how does it work? Without getting too technical, Warmup developed a proprietary heating wire using fluoropolymer coatings and a special energy-monitoring thermostat, both of which are patented and trademark-protected. In most cases, the system is installed on a sub-floor and underneath a surface material that allows it to emit an even heat, which then radiates upward to warm the room. The product can be installed permanently (i.e. directly into the sub floor for in-slab heating) or as a floating installation. While it's particularly ideal for stone and tile, it works equally well under laminate, carpet, vinyl and concrete (even outdoors). The wires require only a depth of less than a half an inch—an extraordinarily low profile. The company has also just introduced its new StickyMat Heating System, the first electric floor-heating mat with pressure sensitive self-adhesive for the quickest and easiest installation to date.
With the Warmup system comes a programmable thermostat that ensures the floor is set to your preferred temperature before you even walk through the door. The temperature can be set from about 70°F to 100°F, with 82°F being what most clients find preferable. Generally speaking, Warmup recommends 82°F for morning and evening use (especially to chase away the chill in the bathroom) and about 75°F for daytime use throughout the home. And with the new 4iE Smart WiFi Thermostat that just launched this spring, controlling the thermostat just got easier—you can now use your smartphone, tablet or computer to change your settings remotely. The thermostat will even suggest additional ways for you to save energy.
To further maximize efficiency, the company, which also manufactures wall heaters, heated towel rails, mirror defoggers, and roof and gutter de-icing cables, can customize the heating pattern in your home to mirror the way you actually use the rooms. You'll never be over-heating unused areas, wasting energy and money. But perhaps one of Warmup's greatest bonuses is that helps reduce allergy attacks. Because electric radiant heat is gentle and emanates up without a forceful blast of air, dust and allergens aren't blown through the home. And it's not as drying a heat as traditional systems.
To learn more about installation and the new 4iE Smart WiFi Thermostat, visit Warmup's YouTube page by clicking here. Between fully customizable settings and round-the-clock customer service, your tootsies are in very good hands.