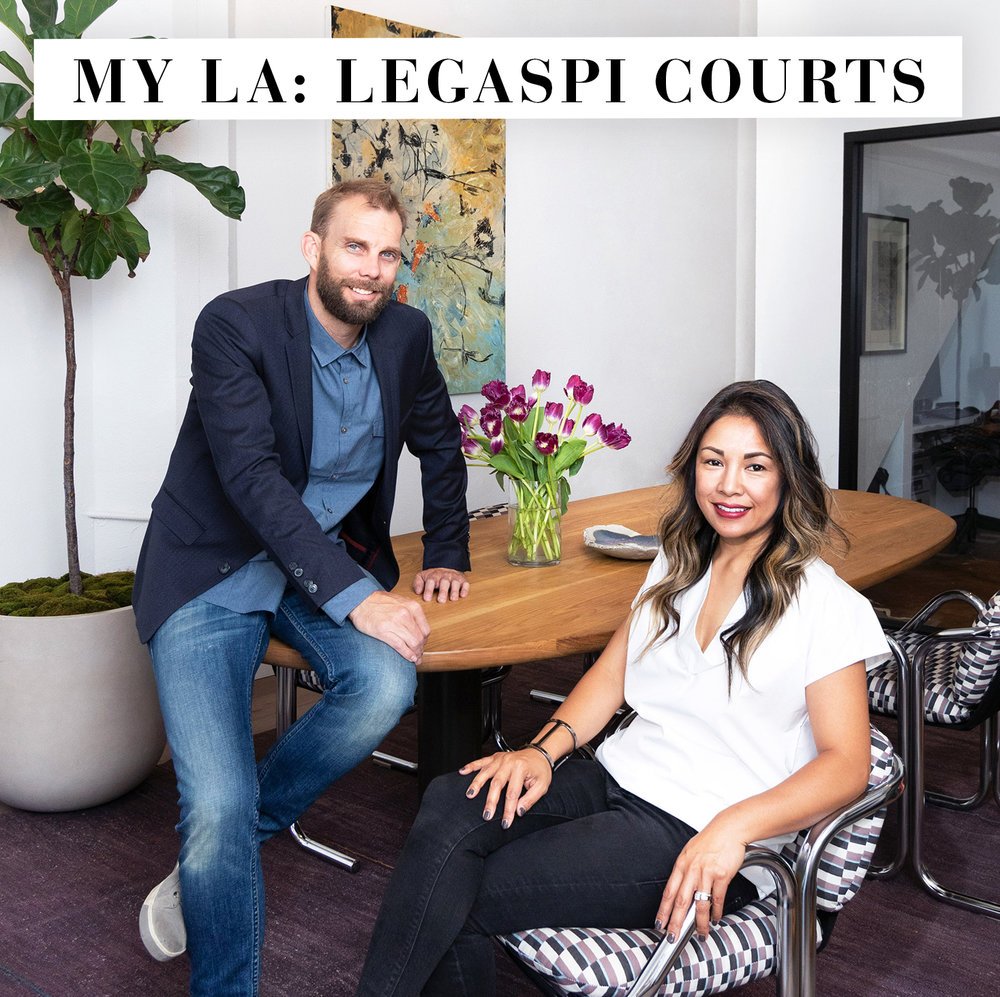 This week we've asked husband-and-wife team Edel Legaspi and Christopher Courts of Legaspi Courts Design for their take on Los Angeles. A designer and architect, respectively, we were especially excited to see the city through their eyes. The duo, whose design house we featured on the blog last fall, recently completed Pasta Sisters restaurant in Culver City's Helms Bakery complex, a "3,400 square foot pasta palace," to quote the L.A. Times. "We have a lot of exciting projects on the boards," says Edel. "We are currently working on a few restaurants in Pasadena and Santa Monica and are breaking ground on an elegant 9,000-square-foot, traditional-style estate with terraced grounds in Sherman Oaks." The couple is also working on a large 12,000-square-foot modern home in Cheviot Hills, a transitional-style residence in Brentwood and an expansive remodel and addition to a midcentury modern in the Palisades. On top of that, they've also launched a furniture line based on the custom pieces they created for the show house last year. With so much in the works, we were delighted that they were able to join us in Milan and be a big part of our programming. One of their favorite events was the day trip to Lake Orta to tour the Fantini factory and to see the company's boutique hotel. "Another highlight we appreciated as first-timers at Salone, was the edited tour Snyder Diamond arranged for the bath section of the fair," says Christopher. "It was great to have Russ give us and other fellow designers a personal tour of some the showrooms, and to be educated on the latest products that are appropriate for the L.A. market."
Art & Culture
It's such an exciting time to be in L.A. right now as there is so much art in the city to experience. We recently saw the Made in L.A. exhibit at the Hammer Museum and it reminded us of how great that space is with its courtyard filled with music and beautiful kinetic sculptures above people dancing. The Natural History Museum is always fun to explore, especially with a sack lunch outside the rose garden. We also love attending artists' studio events and really learning about their craft. It's important for us to always educate ourselves and to get to know these talented people in our city who make beautiful, amazing things. Recently, we visited our friends Brynn and Lisa of Londubh Studio, who have just moved downtown and joined another badass maker, Meyghan Hill of (wh)Ore Haüs Studios in an amazing converted warehouse space on Kohler Street.
Finding Wellness
We try very hard to unplug on the weekends to spend time with our daughter, so we try to be outside as much as possible. We love exploring Kenneth Hahn state park because it has great hiking trails offering views of DTLA, the Hollywood sign and Griffith Observatory.
The Perfect Meal
Pasta Sisters in Culver City hits the spot with their spaghetti bolognese and pesto tagliatelle dishes in a casual relaxed atmosphere. Sushi Gen in Little Tokyo for simple, fresh straight up sushi—no crazy rolls found here. For a sweet fix, head to the Westside to B Sweet Dessert Bar on Sawtelle for their banana pudding topped with vanilla ice cream.
Feeds to Follow
There are so many who we love and admire, so we'd have to mention designers and architects who we look up to and are inspired by: Atelier AM and DISC Interiors for their exquisitely edited and sophisticated interiors; for classical architecture inspiration and process, we love McAlpine House and Jeffrey Dungan; and Australian designer Flack Studio [above] is another favorite for their unexpected color and material combinations in both their residential and commercial interiors.

To see more of Edel and Christopher's work and fun behind-the-scenes glimpses, follow them on Instagram @legaspicourts. We're sharing a few of our favorite Legaspi Courts projects below, too.