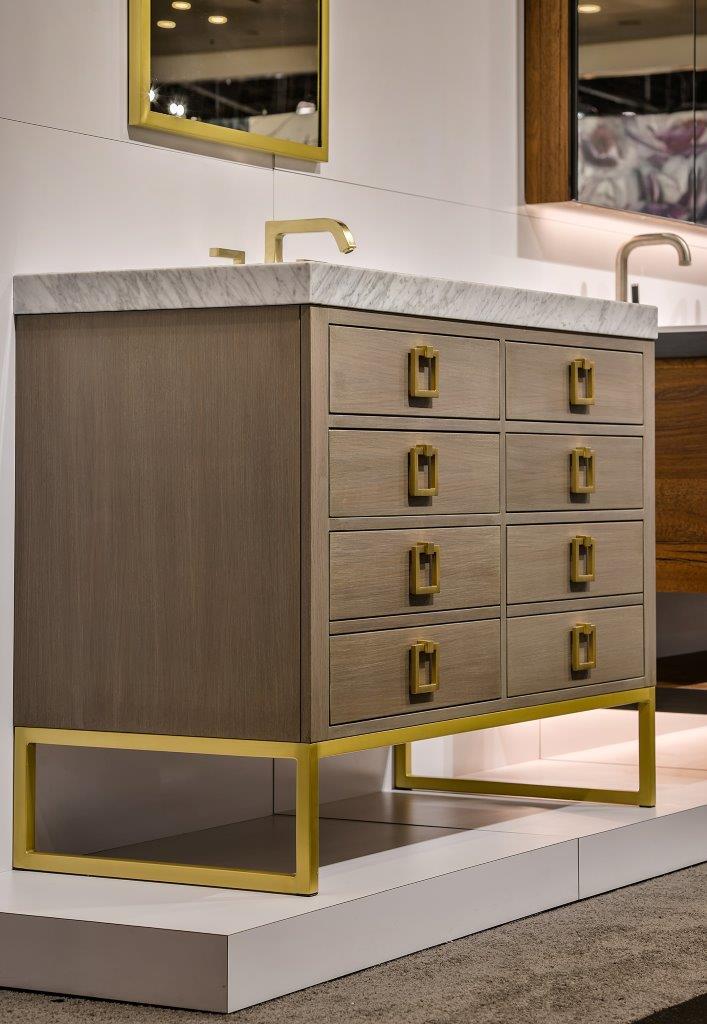 "Snyder Diamond was probably our first customer in California," says Hib Johnson, president of the Furniture Guild. "Russ has been a long-time supporter of ours." Based in Canton, Georgia, about forty miles north of Atlanta, the family-run firm was founded in 1984 and was well known for producing traditional bathroom furniture that was popular with East Coast clients. The designs didn't quite mesh with the Southern California market, and it was a discussion with Brad Stone, Snyder Diamond's Merchandising Manager, that lead to the development of a modern design and, ultimately, a new direction for the company. "We'd never really hit the right track for California and it was Brad who helped us develop our contemporary line. He really pushed me in the right direction," Hib adds. The clean-lined designs became instant favorites, even best-sellers.
We're proud to have had the Furniture Guild in our showrooms for nearly twenty years now, and we're especially happy to announce an installation of their latest designs in our Santa Monica showroom. It will give you an up-close look at what the company is all about—but it's just the tip of the iceberg. The company offers about fifty different designs, all of which come in about ten configurations (think single or double sinks, and a changeable numbers of drawers). Add to that some 8 different size options, some twenty to fifty finishes, and myriad countertop options… you see where we're going here. "I think I counted up some 30,000 design configurations in our standard book," says Hib, adding that they also offer custom pieces. Need a certain depth, or a wall-to-wall cabinet? No problem. "It's all do-able because every item is designed to order and made in our factory," he continues. "We don't have a warehouse of furniture just sitting in boxes, so we can say 'yes' to anything." The company also produces medicine cabinets that can be custom designed with matching paints, special finishes, or trims. (Check our previous post on the firm to see even more of their offerings.)
About a year ago, the company started experimenting with new metal designs, specifically consoles that also offered storage—a void in the market. "We showed a prototype of the Alton in rose gold and aubergine at ICFF this year and had a great response," he adds. (You can see the prototype below.) With such beautiful, handcrafted designs, it's not surprising to hear him say that clients are now asking them for bedroom furniture. "The line between bathroom and bedroom is blurring. It's a more continuous living space now," he explains. So far, they've had requests for matching dressers, end tables, and TV stands. "We absolutely have the capability to do case goods," he adds. "It's really exciting—we're just getting started!"
You can learn more about the Furniture Guild at any of our showrooms, but Santa Monica is definitely the place to come see them in person.