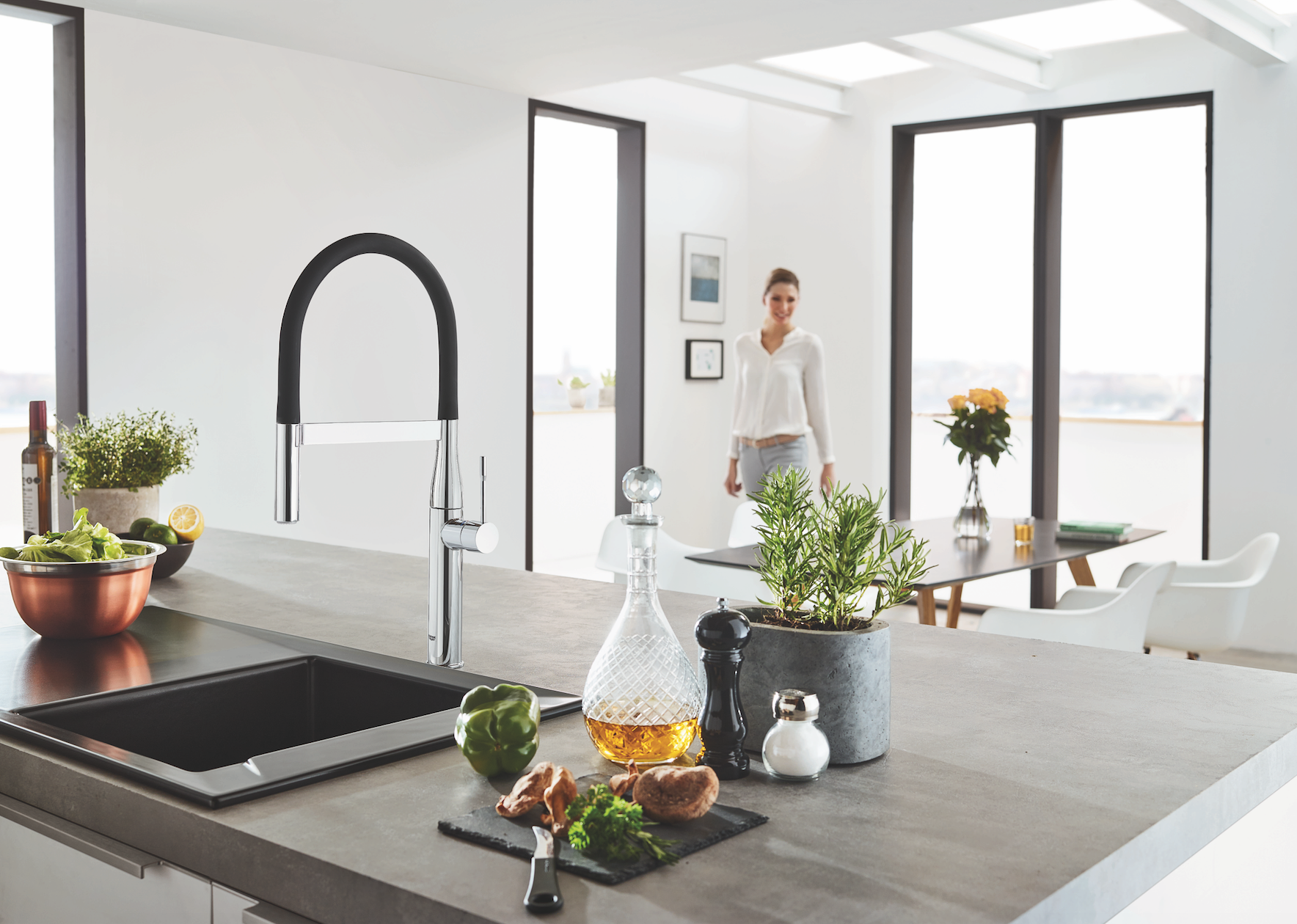 There is always something new from Grohe, and this week we're looking at the Essence semi-pro faucet. The design allows you to continually update its look, as often as you'd like, with its new interchangeable hoses. (Remember those Gucci watches where you could swap out the face frame?) The easy-to-maintain hoses are available in black, white, and dark gray, with a rainbow of colors launching in July: red, orange, yellow, green, blue, purple and pink. The Essence Semi-Pro faucet features a smooth-turn spring arm, dual spray with toggle function that switches from regular flow to spray, a magnetic dock for easy return, and integrated temperature limiter to prevent scaling. Also new from Grohe is the F-digital Deluxe, a shower system that transforms a standard shower into a luxurious bathing experience with multi-sensory light, sound, and steam settings. Select the color to suit your mood and link to your phone stream your favorite music. (You can see the modules in action in this video.) The benefits of steam are many and we've got loads of ideas for creating your perfect home spa.
Can't find the fridge of your dreams? Maybe you need to explore the new "Build your True" refrigerator-creator from True Manufacturing. With a few clicks, you can control color and finishes of several models to design the perfect match to your kitchen. We love the matte black with copper, which True debuted at KBIS. It's a great counter to La Cornue ranges and other great manufacturers of the heritage look. Take 2 minutes to play around… see what you can create!
And in other uber-customization news, Canadian firm Home Refinements by Julien is the only stainless-steel sink company to offers à la carte options. You can customize your own sink to truly make a personal statement in your home. Simply select a sink and add on features. True sinks are made to order, in any size or configuration you can imagine. Check out this video to see how to use their website "configurator" works.
Have we piqued your interest? Just give a shout to learn more.