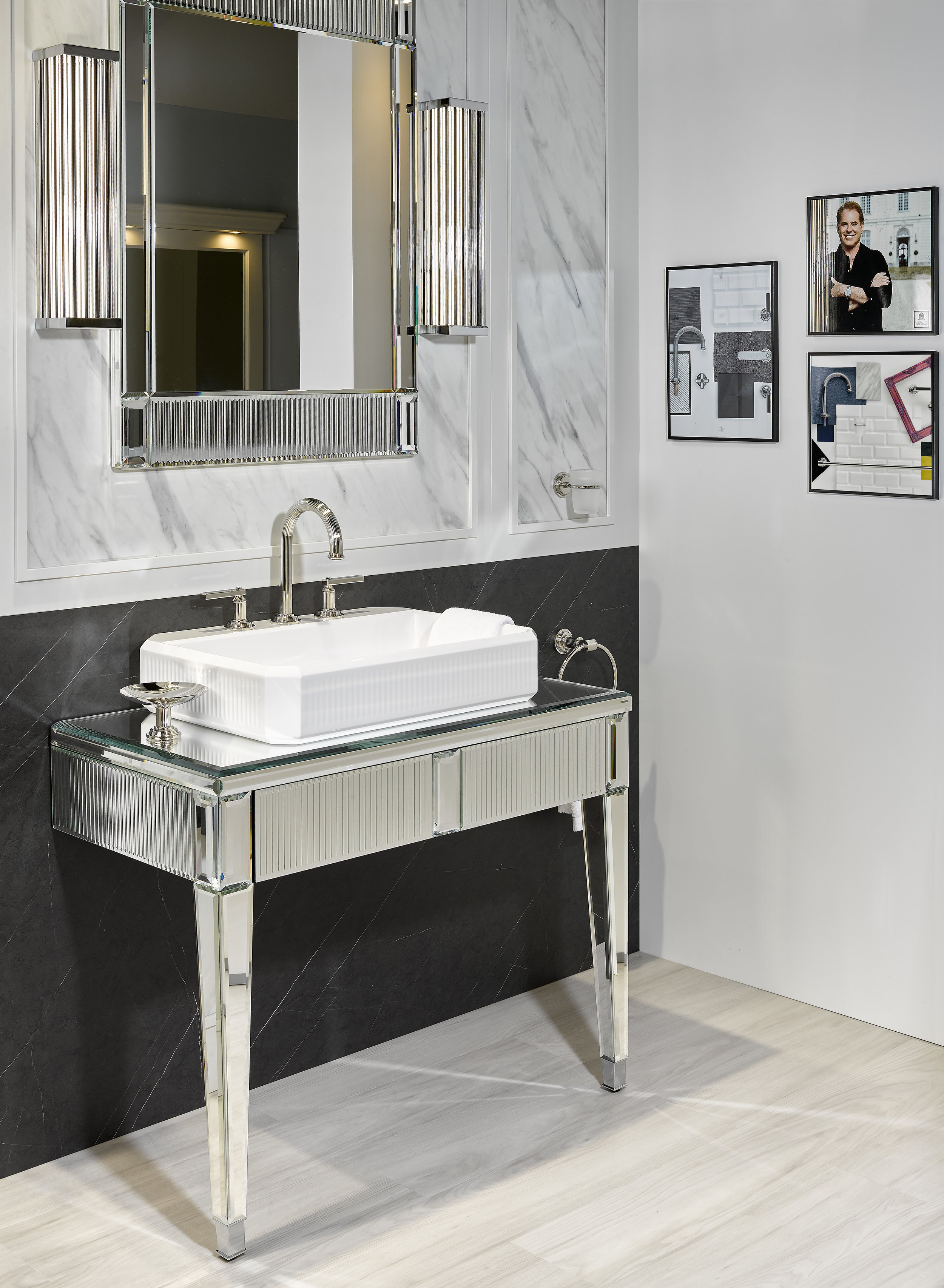 Since 1950, THG-Paris has been a leading French atelier in luxury bath and kitchen fittings. They have long partnered with some of France's most prestigious firms—Daum, Baccarat and Lalique, to name a few, and have brought on world-renowned designers like Alberto Pinto and Pierre Yves Rochon. Now, they've added L.A.'s master of European-meets-Californian style, Timothy Corrigan, to the mix. (We're fans of Timothy's and he was one of our very first Designers We Love profiles!) The designer's new lines, West Coast and Grand Central, are brand new on the market, launching just a few weeks ago. THG-Paris also recently released Dean, a line created by its new in-house team, and Infini, its first-ever collaboration with porcelain manufacturer Haviland. This week we're delving into all four—each with its own slideshow to bring you a fuller extent of the collections.
West Coast takes its cue from the 1920s jewelry designs of Tiffany, Cartier and Christofle, reflecting the masterwork of their craftsmen in the onyx-inlaid handles and decorative detailing. The design is offered with either black or white onyx, and features a guilloche pattern (a decorative technique in which precise repetitive pattern is mechanically engraved via engine turning) that was influenced by men's luxury watches andaccessories in the Art Deco period. The design also feature a belted waist and sleek, decorative finials on the handles and spouts.
New York's Grand Central Station was the inspiration behind Corrigan's second line, Grand Central. The spout and handles feature fluted metalwork that is reminiscent of the columns found outside the 1913 landmark terminal. Black or white onyx inlays sit within the handles and, as with West Coast, the fixtures feature a belted waist and finial details. "I tried to mix the best of both worlds into this new collection—both Grand Central and West Cost reflect a combination of French classicism and all-American boldness and optimism," said Corrigan. "The intricate details and pleasure that one feels when touching the handles turns a routine and often mundane experience into one that is special," he explained. "For me, beauty and detail are a basic part of the THG-Paris DNA." True to the company's tradition, West Coast and Grand Central also offer a beautiful range of bathroom accessories.
Dean marks the first collection from THG-Paris' newly created in-house design group, Studio THG. The line, inspired by early aviation, is strikingly modern yet has a fittingly nostalgic feel. It's the first in a series of new fixtures that Studio THG will develop to expand the more clean-lined collections created by the firm—a firm perhaps best know for its classical and often exuberant designs. Dean's lines are at once soft and purposeful, which make it especially well suited to contemporary and transitional interiors, and its knurled fasteners add an industrial, mechanical touch. The line is available for basins, shower and baths, with a coordinated collection of accessories, and comes in a wide choice of finishes, from chrome to rose gold.
And for the first time in its storied history THG-Paris has partnered with French porcelain company Haviland to produce a new line of one-of-a-kind fixtures that play on the company's classic Infini line. The new design was inspired by solar radiation, the radiant energy emitted by the sun, a portion of which is in the visible short-wave part of the electromagnetic spectrum. The line includes faucets and handles available in different configurations for basins, bathtubs, and shower systems, and also offers a range of matching accessories that incorporate the patterned design. (It also partner's nicely with Haviland's existing collections of vases and other home items, like candles.) Each piece is meticulously hand-engraved by Haviland's skilled artisans and uses an exclusive enameling technique that results in a combination matte and glossy finish. There are multiple finishes to choose from, including white, gold, and platinum