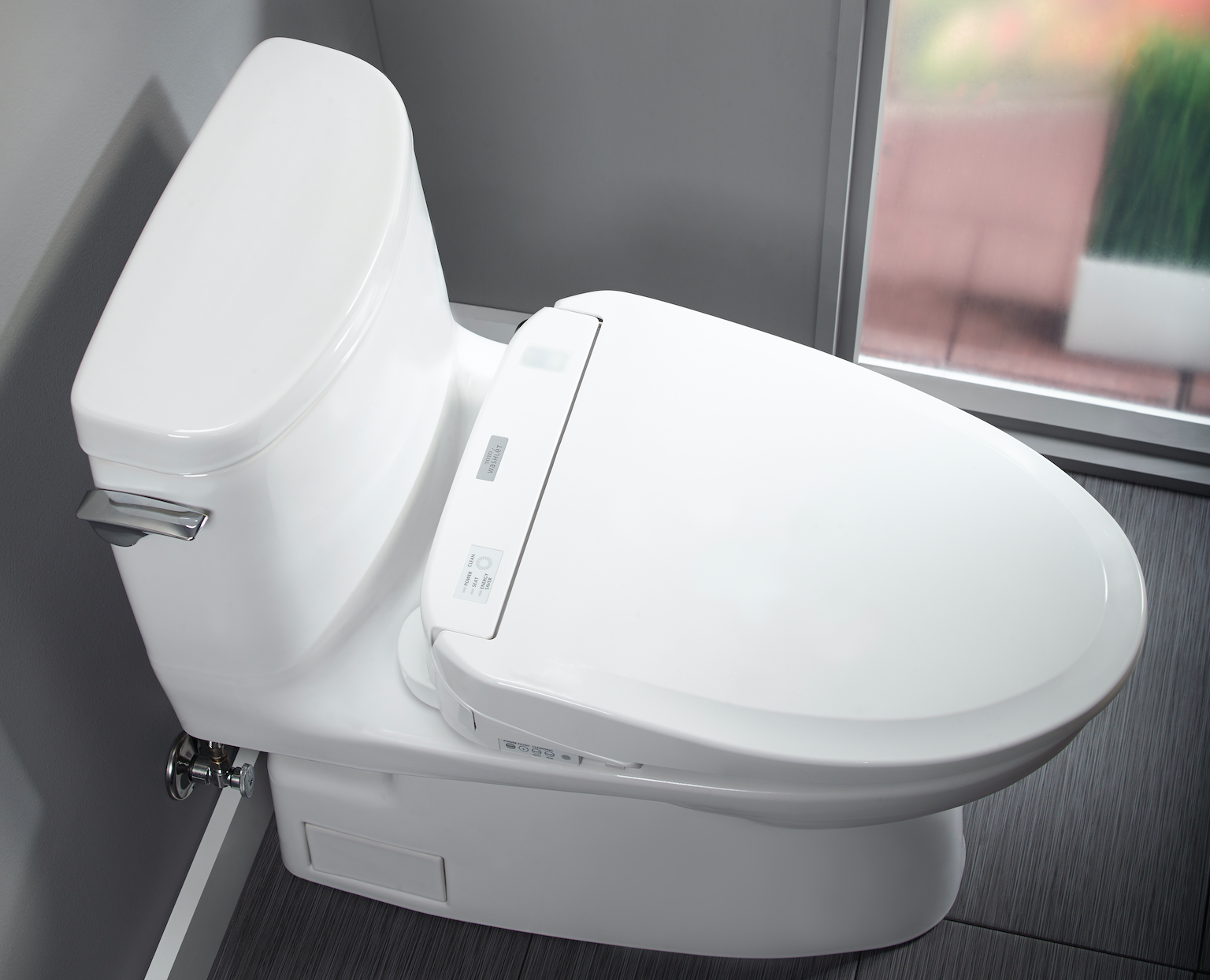 We've blogged about Toto's high-tech toilets before but we've got even more to tell you about them—including a peek at this year's new design. It's destined to be another cult favorite. So devoted are customers of the Japanese company's line of toilets and washlets (a genius mini-system that simply sits atop your current toilet) that there are reports of people skipping airport bathrooms and waiting to reach their home toilet, post-flight. (We're not kidding.)
European bidets never really caught on in America but we do suddenly seem more open to the high-tech Japanese version. Maybe it's the technological aspect that's captured our attention, even though we still get the giggles talking about toilets. Regardless, there's a lot we can learn from Japanese culture when it comes to living a clean and healthy lifestyle. The nation's long history of cleanliness is discussed in this 1997 article in the Economist, which gives a good explanation, tying in everything from climate, the abundance of natural hot springs, religion, and linguistics. "Cleanliness and other desirable attributes are linked in the Japanese language, as are their opposites," the article explains. "Kirei, the word for clean, also means pretty.. Fuketsu, or unclean, means hideous. Kitanai (literally dirty) means nasty, mean and calculating." It's a fascinating read!
To date, the most talked-about Toto product is the Neorest 750H. The revolutionary toilet is not only a handsome and multi-functional design, it's efficient and environmentally friendly. Dual flush options for liquids or solids require only .8 and 1 gallon, respectively, which is significantly less than the 1.6-gallon flush of a standard toilet. Plus, it's practically self-cleaning. Actilight technology uses an integrated UV light and special glaze to break down dirt and grime in the bowl, and the bowl is rinsed clean with electrolyzed water. Other features include a heated seat, deodorizer, and warm water sprays—all controlled via remote. This year, Toto will launch the latest evolution of the toilet, a wall-mounting model called the Neorest AC. With no structure below it, cleaning is even easier. Just a swish of the mop right underneath it.
But Toto does more than toilets. They recently released a new sink, Arvina, that comes in three styles: one square and two round. The sophisticated shapes complement a variety of bathroom styles, and work equally well in residential and commercial applications. We think they do some pretty spectacular faucets, too.
Drop by our showrooms to learn more. (You can even give the Neorest 750H a spin in our customer bathroom!)
Artworks in order shown:
Tsukioka Yoshitoshi, Summer: Women Bathing at the Daishōrō, 1883 (LACMA)
Torii Kiyonaga, A Woman Emerging from the Bath and a Black Dog, from the series Comparison of the Charms of Alluring Women, c. 1781 (Museum of Fine Arts Boston)
Tsukioka Yoshitoshi, Waking Up: A Girl of the Kōka Era, 1888 (The Metropolitan Museum of Art)
Kitagawa Utamaro I, Elegance at Four in the Afternoon, from the series The Sundial of Summer in the Floating World, c. 1806 (Museum of Fine Arts Boston)