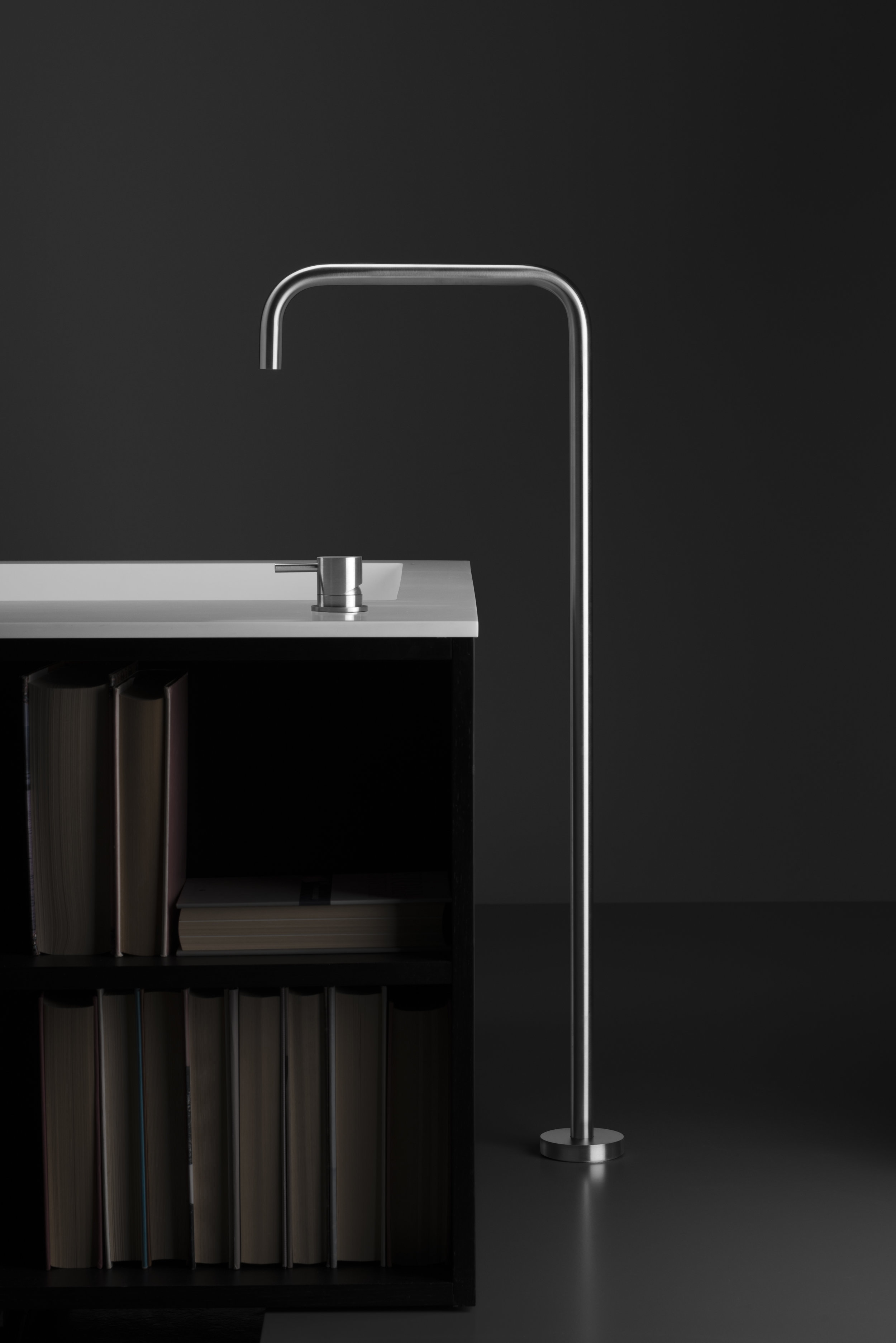 This year marks the tenth anniversary of Canadian manufacturer Blu Bathworks. Designer and founder Michael Gottschalk has developed an internationally renowned brand that celebrates bold architectural style while keeping sustainability and environmental factors at the core of its philosophy. Based in Vancouver, the company offers a comprehensive line of European-inspired products perfectly suited for residential and commercial applications: sinks, bathtubs, toilets and bidets, faucets, shower bases, accessories and Italian-made bathroom furniture. In honor of their anniversary, we're bringing you a roundup of some of their incredible 2016 product launches.
The INOX series is a sophisticated modular collection of stainless steel sink, tub and shower faucets, and an all-new thermostatic shower system, the INOX Shower Station. The minimalist, satin-finish faucets give designers and homeowners a wide range of installation and combination options for a personalized look. The fixtures are lead-free and CalGreen compliant—as healthy as they are pretty.
This year, the company also expanded its signature blu-stone collection, adding three freestanding bathtubs, six countertop sinks and a pedestal basin model. The proprietary material, blu-stone, is essentially a high-pressure, injection-molded quartzite that is anti-microbial and non-porous, which makes it low maintenance and scratch resistant. One of our favorites is the Halo Petite freestanding bathtub. It's a comfortable, compact soaking tub that's just 5-feet long and 27.5 inches wide—perfect for smaller bathrooms.
Also new is the 45º furniture collection, which some of you may have seen at Dwell on Design. Crafted in Italy and available in a range of finishes and colors, the clean-lined collection is comprised of wall-mount vanities and mirrors, divided into five categories based on width: series 700: 27½", series 900: 35½", series 1200: 47¼", series 1400: 55" and series 1800: 71".
As well, just this fall Blu Bathworks debuted its new Metrix toilet and bidet. The rimless, wall-mounted designs not only save water but space. And earlier this year, we blogged about the company's latest addition to its Electronica series, the high-tech, Swiss-made Vision Wheel. You can read more about the three-outlet thermostatic digital shower control by clicking here.
It's been an incredible year (an incredible ten years!) for Blu Bathworks and we can't wait to see what they come up with next. In the meantime, come by our showrooms to learn even more about this inventive, stylish and smart brand.