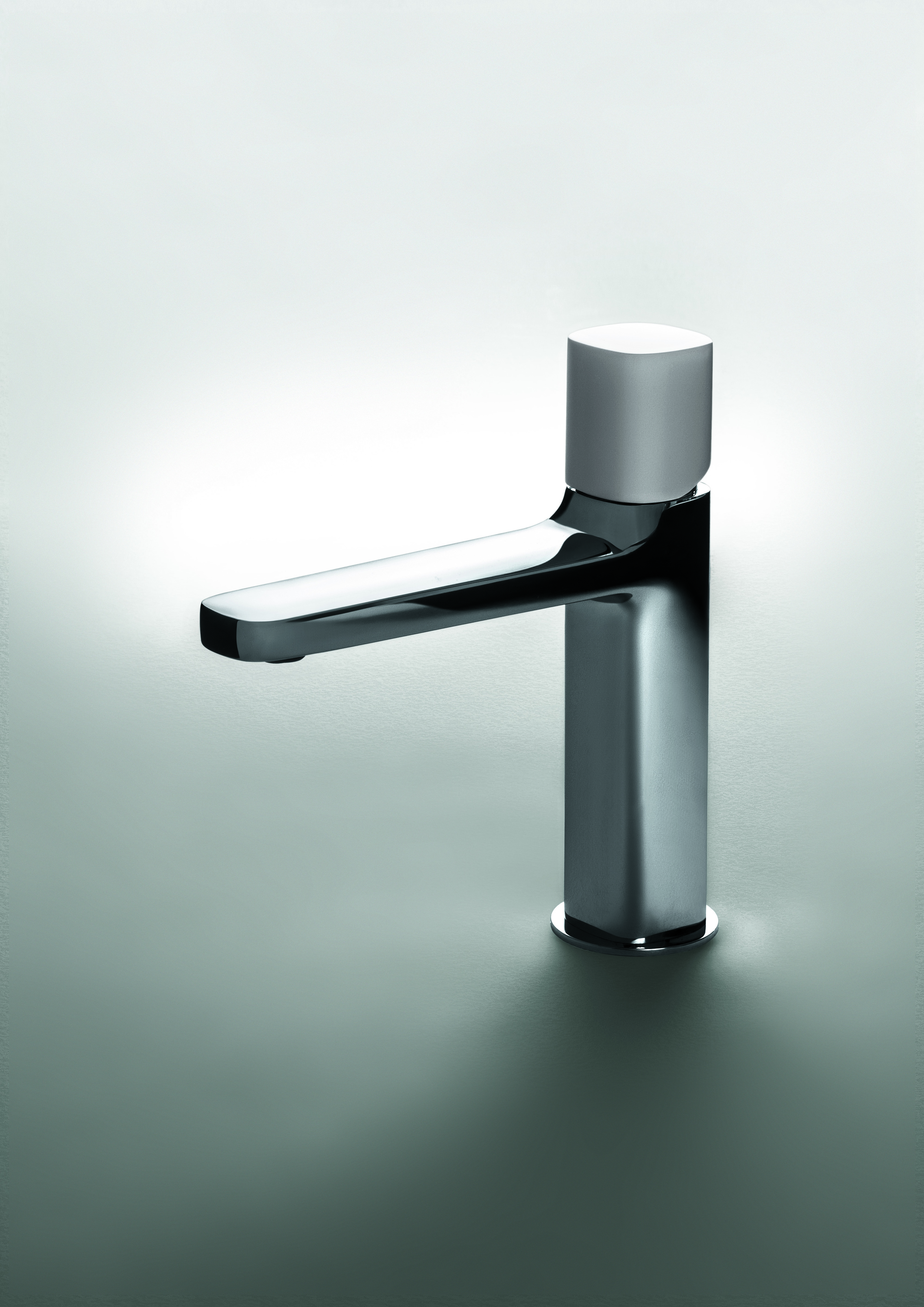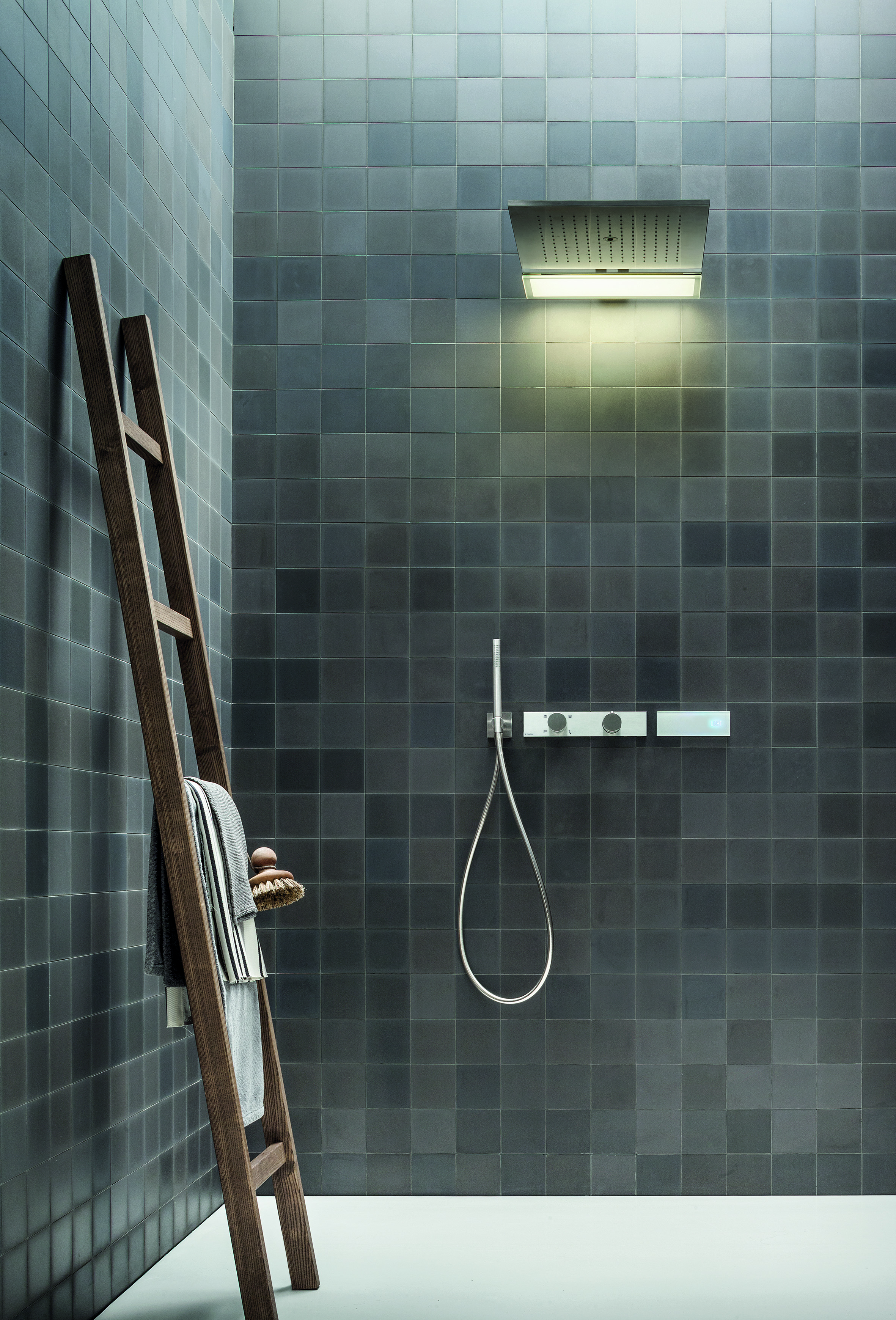 A few weeks ago we posted about Snyder Diamond owner Russ Diamond's trip to Milan and, as promised, we want to start showing you some of the wonderful new items that he discovered. Italian manufacturer Fantini, which featured last year in a post about their philanthropic side, is set for a banner year. They have just released two new collections, Acquadolce and Lamé, and added a new outdoor shower, to their Milano line. As well, they have just made their popular Mint collection available in stainless steel and added three brand-new finishes for select pieces. They're also on track to release five more new collections later this year (Russ got a preview of those in Milan) and they already have two more lined up for early 2017. It's the biggest launch of new product that the company has ever done and we're delighted to start showing you the latest designs.
Lamé is a new collection of bathroom fixtures designed by Matteo Thun and Antonio Rodriguez. It features simple, smooth and ergonomic shapes that are striking to the eye and pleasing to the touch. The squared design features rounded edges that draw inspiration from the "super-ellipses" as defined by 19th century French mathematician Gabriel Lamé. We won't bog you down with the specifics—partial differential equations, curvilinear coordinates and the mathematical theory of elasticity—let's just call it a "thinky" faucet. The collection is available in a chrome finish and is presented with a matte-black handle that ensures a continuity of form while adding interesting contrast. (You can also opt for a matte white or chrome handle.) All faucets are WaterSense and CalGreen compliant, and the shower system offers additional water-saving options by way of diverters and flow restrictors.
Designed by Silvana Angeletti and Daniele Ruzza, Mint is one of the most popular collections of basin and shower fixtures in the Fantini portfolio. The design is balanced and pleasing—architectural, really. And it's versatile too, meaning it adapts well to any style of interior. The design takes on an entirely new personality in stainless steel.
Acquadolce was originally designed in 2014 by Franco Sargiani and includes multifunctional showerheads in now three unique styles: Acquadolce is the baseline, ceiling-mounted shower design that offers rain, waterfall and mist functions; Acquadolce Light adds a white LED lighting system; and Acquadolce Dream integrates chromo therapy (red, blue, yellow and green). All three designs feature touch-screen technology on a frosted-glass panel and are available in polished or brushed stainless steel. Light and Dream are also suitable for steam rooms.
MilanoSlim Outdoor, also designed by Franco Sargiano, is a brand new outdoor shower system. It's tall and thin, and very high tech. The showerhead features a wide front that produces a highly efficient waterfall effect that maximizes a minimal amount of water. It's available in brushed or glossy stainless steel.
Three new finishes now extend the range of options for select Fantini lines: Gun Metal blends burnished blue and dark grey for incomparable depth; Brushed Copper creates a bright, warm and rosy effect; and British Gold offers a refined and elegant look. Each new finish is obtained with PVD (Physical Vapor Deposition) treatment, which applies a thin film onto the fixtures in a vacuum phase, keeping the structure of the surface unaltered. It's a process used in biomedical fields. Between that and mathematician Monsieur Lamé, Fantini goes directly to the head of the class.