Still trying to decide what to make for your 4th of July gathering? We're here to help with a roundup of recipes from some of our favorite vendors. These are just a few of the options they share on their sites—all chef-tested and guaranteed to make the holiday a tasty one. Whether you're working with your oven or your grill, or even just your freezer, check out the sampling below. And let us know what you make!
Hestan's Double-Decker Burgers with Goat Cheese: A spicy chile relish gives these burgers a kick! Their easy Beer-Can Chicken is high on our wish-list, too.
Looking to rev up your pizza oven? Wood Stone's Margherita Pizza is a classic. Their recipe pages are also a great resource for different types of dough, including their healthy whole wheat option. But there's more than just pizza. Check out their Cedar Planked Salmon recipe.
And while Kalamazoo offers an incredible range of savory entrees and sides (and more), we especially love their Seasonings, Rubs and Glazes page, where you'll find things like Carolina-bourbon and onion-marmalade barbecue sauces, along with great basic rub blends.
In need of a sweet? Wolf's Cherry and Blueberry Cobbler is charmingly old fashioned, while Thermador's (adults-only) Strawberry-Margarita Pops could start a fun new holiday tradition.
Whatever you choose and wherever you spend the 4th, we wish you all a very happy holiday!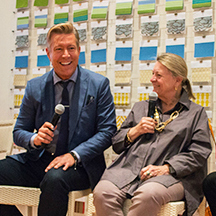 Related Posts:
Get Grilling: A Roundup of Snyder Diamond's Best-Selling Outdoor Designs
William Hefner on Designing Outdoor Spaces
The Very Best of Outdoor Grilling
The Ultimate Outdoor Room, our two-part Convo by Design (CXD) podcast with Russ Diamond, Michael Rachlin, Kirk Nix and Nancy Goslee Power.
And a bonus read! Did you catch Nancy's own home and garden in the Los Angeles Times? It's chock full of beautiful ideas.