A roundup of the newest designs, plus the return of a few classics.
With brand new collections and important additions like the ADA compliant one-piece toilet, it's been a busy period for German bathroom manufacturer Duravit. This week, we're taking a look at some of the 2019 highlights.
C'mon Get Happy
The Happy D.2 Plus collection is a complete bathroom solution that plays up the versatile and chic attributes of its predecessor, Happy D. The rounded corners of the design give it a softness befitting a spa-like retreat. Duravit partnered with longtime collaborators Sieger Design to create the line, which is designed to reflect current trends in colors, designs and finishes. Happy D.2 Plus encompasses the full suite of bathroom products, including clean-lined tubs and wash basins, stand-alone consoles and storage cabinets, along with high-tech mirrors in a playful, circular form—another trend we're spotting. The moody Anthracite Matt finish option for furniture and ceramics provides an additional option for those looking to sound an ultra-contemporary note.
Everything in Harmony
Duravit again collaborated with Sieger Design for its Viu ceramics (washbasins, toilets, and bidets) and XViu bathroom furnishings collections (bathtubs, vanity units, storage cabinets, mirrors, and mirror cabinets), which are available in 34 finishes. Their future-forward design melds an industrial and geometric feel with softer, more organic forms for a line of products that's quite unlike any other. Materials include ceramic, glass, metal, lacquer and wood fashioned together in innovative ways. Together, the two collections beautifully and completely outfit an entire bathroom. Recurring design elements and fine details in the two collections tie them together to pleasing effect. Plus, Viu's ceramics can be combined with the XSquare, L-Cube and Brioso furniture series, and XViu bathroom furniture was also designed to pair with pieces from Vero Air, ME by Starck and P3 Comforts. What combination will you create?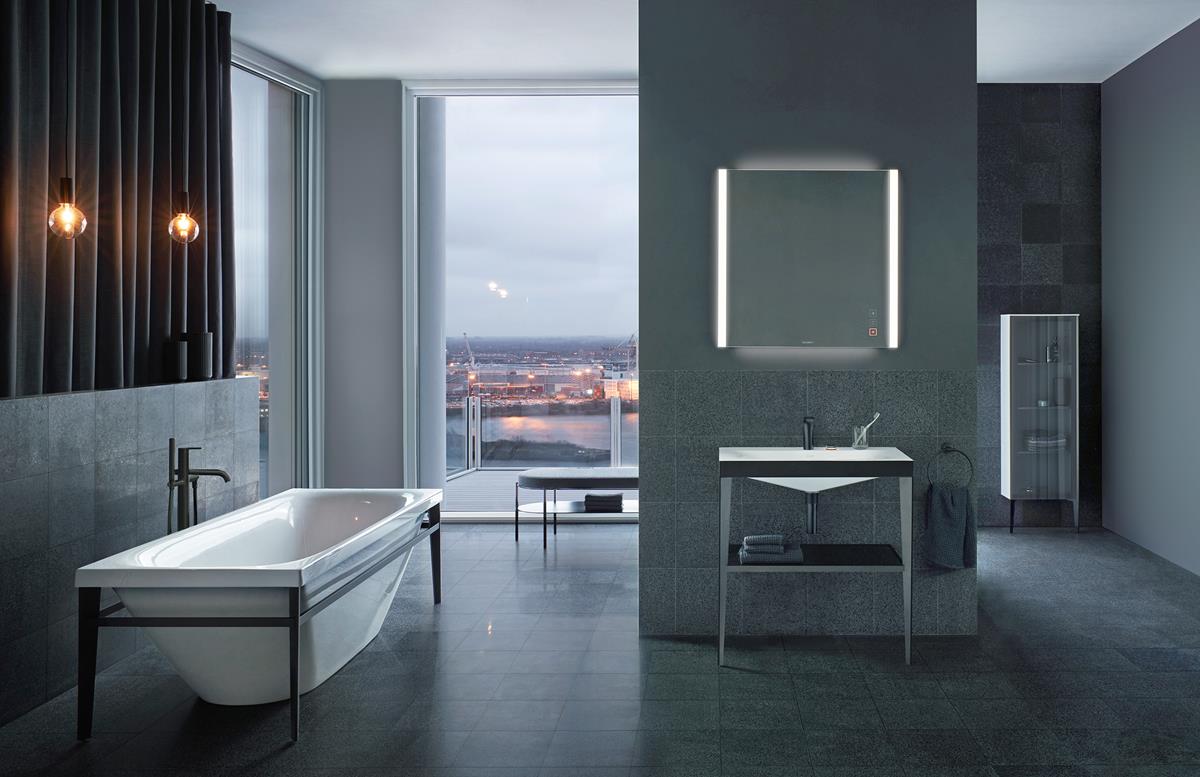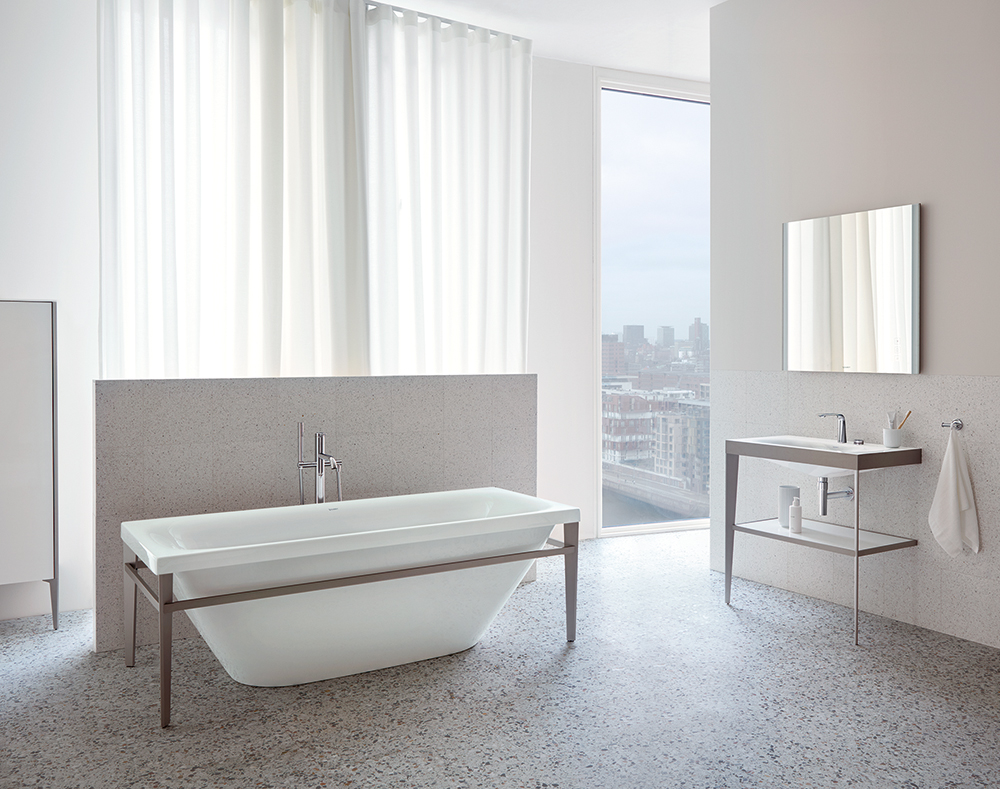 Roll Out The Barrel
Lastly, Duravit is celebrating its very special, 25-year partnership with Philippe Starck by introducing the designer's first-ever bathroom design, the Starck 1 Barrel Vanity, in a range of exciting new finishes and colors including Night Blue Satin Matte Lacquer, Light Blue Satin Matte Lacquer, Stone Grey Satin Matte Lacquer, and Taupe Satin Matte Lacquer making a statement. The conical unit features a ceramic washbasin, for an altogether different style of vanity. On the outside, it's finished with a wood veneer protected by a melamine resin finish or with a laminate surface with high-gloss. Inside, the barrel is lined with black laminate and a glass shelf, and the curved doors allow for a wide opening angle. Each barrel is marked with serial numbers to ensure that the right components are fitted together to achieve a seamless look, thus creating a one-off product in each order.
---