Check out a trio of gorgeous designs from NK Woodworking, Blu Bathworks and Kreoo.
The Lotus Bathtub: A New Way to Bring the Outside In
NK Woodworking's modern approach to luxury wood baths is refreshingly unique and surprisingly low maintenance. The handcrafted tubs are made with sustainable domestic and exotic hardwoods, and created in the company's Seattle studio. (Tubs are just one aspect of the firm's output—they also craft staircases and furniture, among other items.) We sometimes think of wood as being quite a delicate material, but it's really not. These tubs are completely stable, waterproof and polished to a fittingly sensual smoothness. They're designed for daily use, and up the challenge of humidity and dryness—even today's cleaning products—thanks to a specialized, durable and long lasting finish. The designs have the feel of fine furniture and really create something spectacularly different. If you're interested in feng shui, you'll already know that wood has a primarily yang (masculine, active) energy, while also being imbued with a yin elements (receptive, feminine.) Wood is associated with spring and new beginnings, new life, and new growth—can you imagine a better way to soak? Plus, wood has the qualities of strength and flexibility and is believed to improve your home's chi. What's more, NK Woodworking's design-and-build studio is always interested in collaboration, giving architects and designers even greater options for beautifully custom pieces.
An Elevated Way to Bathe
Kreoo's footed bathtub, Kora, is a delightfully modern approach to marble baths. Its design—an ellipsoidal shape carved from a single marble block—rests on an iron tripod, giving stability and elegance legs for a clean, lightweight look. The Italian firm has more than fifty years of experience crafting artisanal bathroom designs and while they incorporate myriad historic techniques, they're equally focused on scientific and technological advancements that allow them to create designs with even greater precision and durability. Kora is a perfect example of those combined interests. It melds exclusive technologies and equipment with masterful hand sculpting. Its sides measure about an inch thick—almost unfathomable—and it weighs only 375 pounds empty (roughly two-thirds lighter than similar tub designs), which makes it an exciting new option for applications with weight restrictions, yachts, high-rises and airplanes. The design made its debut at Salone del Mobile 2016 and won the 2017 American Architecture Prize 2017 for Interior Design (Apartments.) Fun fact: the design's name is a reference to the kora, a traditional harp-type instrument from West Africa. The tub is available in white, black and gray marble.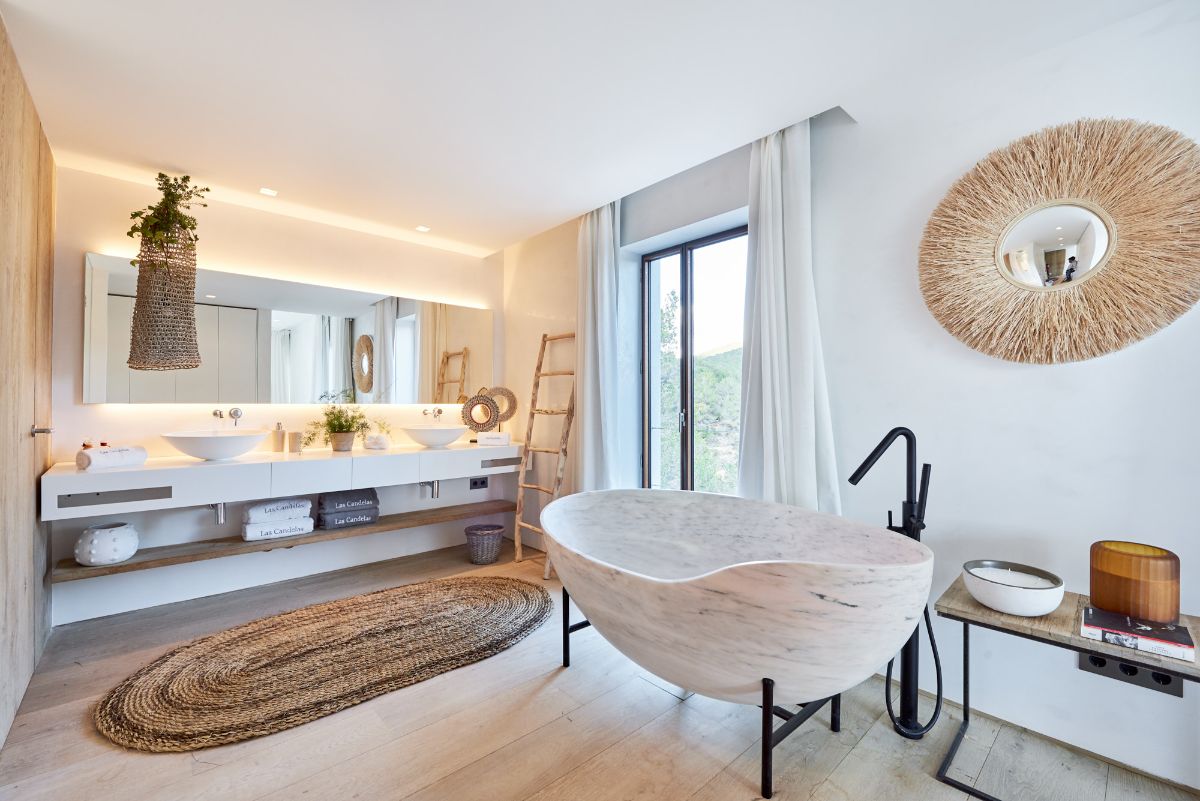 The Alluring Beauty of Simplified Form
Canadian firm Blu Bathworks was founded in 2006 by designer Michael Gottschalk, and they've been putting out some of our favorite pieces ever since. The new Fini·1 freestanding bathtub delivers a gratifyingly deep soak experience. The seamless, one-piece design measures 68¾- by 31½-inches and is made from the company's proprietary eco-friendly blu-stone material, comprised primarily of quartzite, which boosts temperature retention. Given its low-energy production process, it requires less time in the kiln than ceramic designs. Furthermore, as a recyclable and repairable material, there is limited production wastage—so less junk for the landfill. And because the tub is crafted by injection molding, there are no seams or cracks for mold to hide, making this freestanding bathtub more hygienic and easier to clean. Not surprisingly, Fini·1 was a finalist in Interior Design magazine's 2017 Best of Year awards. We think it's a winner, too!
A close-up look at Blu Bathworks' bespoke injection-mould process:
---