Our favorite toilets do more than just flush.
Dream Machine: The Neorest NX1 from TOTO is a sculptural ode to cleanliness.
No Tank? No Problem. Axent Debuts a Game-Changing Design.
Axent Switzerland debuted its Primus tankless toilet early last year—the very first toilet of its kind. The design uses the company's patented vacuum flush system integrated into the ceramic body, using the standard 1.28 gallons per flush. Primus also features a silent seat and the company's proprietary antibacterial Easy Clean glaze that makes cleaning, well, easy. It comes in a range of color options, too: White/Silver, White/Champagne and White/Rose Gold, White/Matte Black and Standard White. Another of the company's popular designs is the award-winning Axent.One C Plus. The shower toilet features rear wash, front wash, warm-air drying, deodorization, the same antibacterial finish as Primus, a night-light, seat heating and a convenient remote control.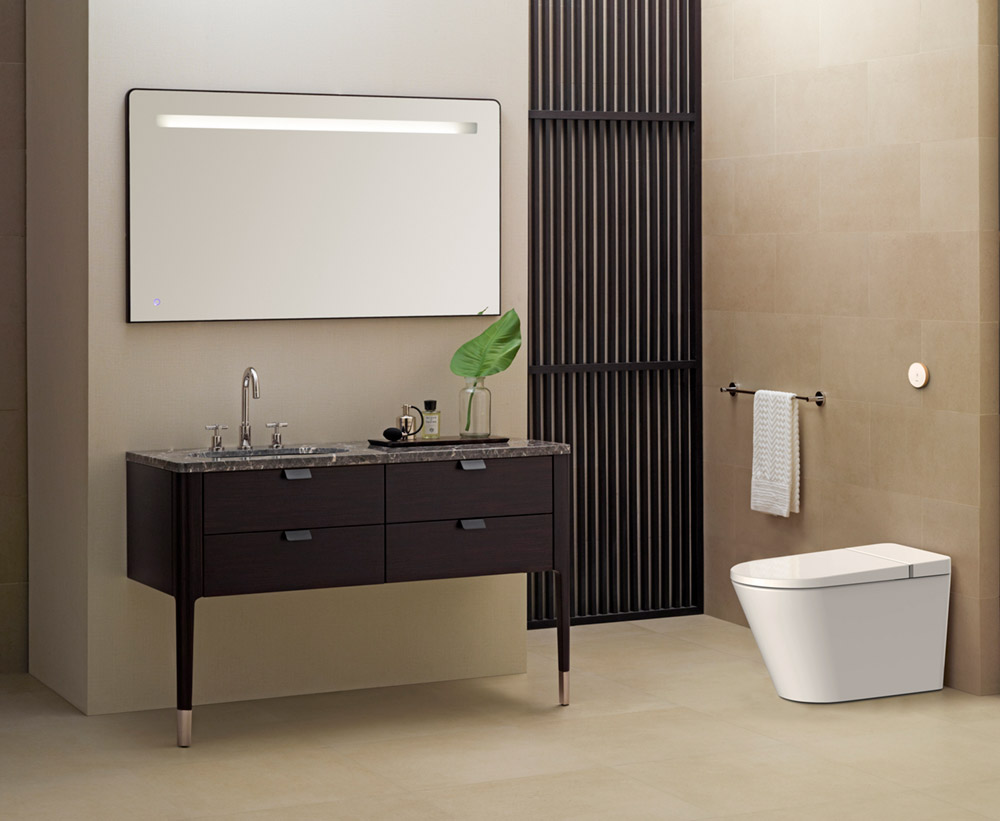 The Primus tankless toilet from Axent.
The Axent.One C Plus toilet and its push-button control.
Three New Options from Duravit
The newest addition to Duravit's iconic Happy D. product line, Happy D.2 Plus, reimagines the series (the full suite, including toilets, bathtubs, sinks, consoles, storage, and mirrors) to reflect current trends in colors, designs, and finishes. The new, dark and moody Anthracite Matt finish option inject a fresh modernity into the bath. The company's has also newly released the latest iteration of ME by Starck's one-piece toilet, now modified to meet ADA applications. The ME by Starck bathroom range, designed for Duravit by the renowned Philippe Starck, is known for its streamlined aesthetic and countless design combinations. With the new ADA compliant configuration, ME by Starck will advance the goal of the entire collection: to offer individualized solutions for any and every bathroom, with design and diversity in mind. Duravit has also released Viu, a new bathroom collection that melds industrial elegance with soft, organic forms. With contemporary contrasts of ceramic, glass, and metal against matt lacquer and real wood, and boundary-pushing material and technological innovation, the collection offers a distinctive new look. The Viu toilets and bidets mirror the range's focus on geometry and fine details with improved Rimless technology that ensures outstanding flush performance, while a quick-release seat makes cleaning easy. Additionally, the SensoWash® Slim is available for the toilets.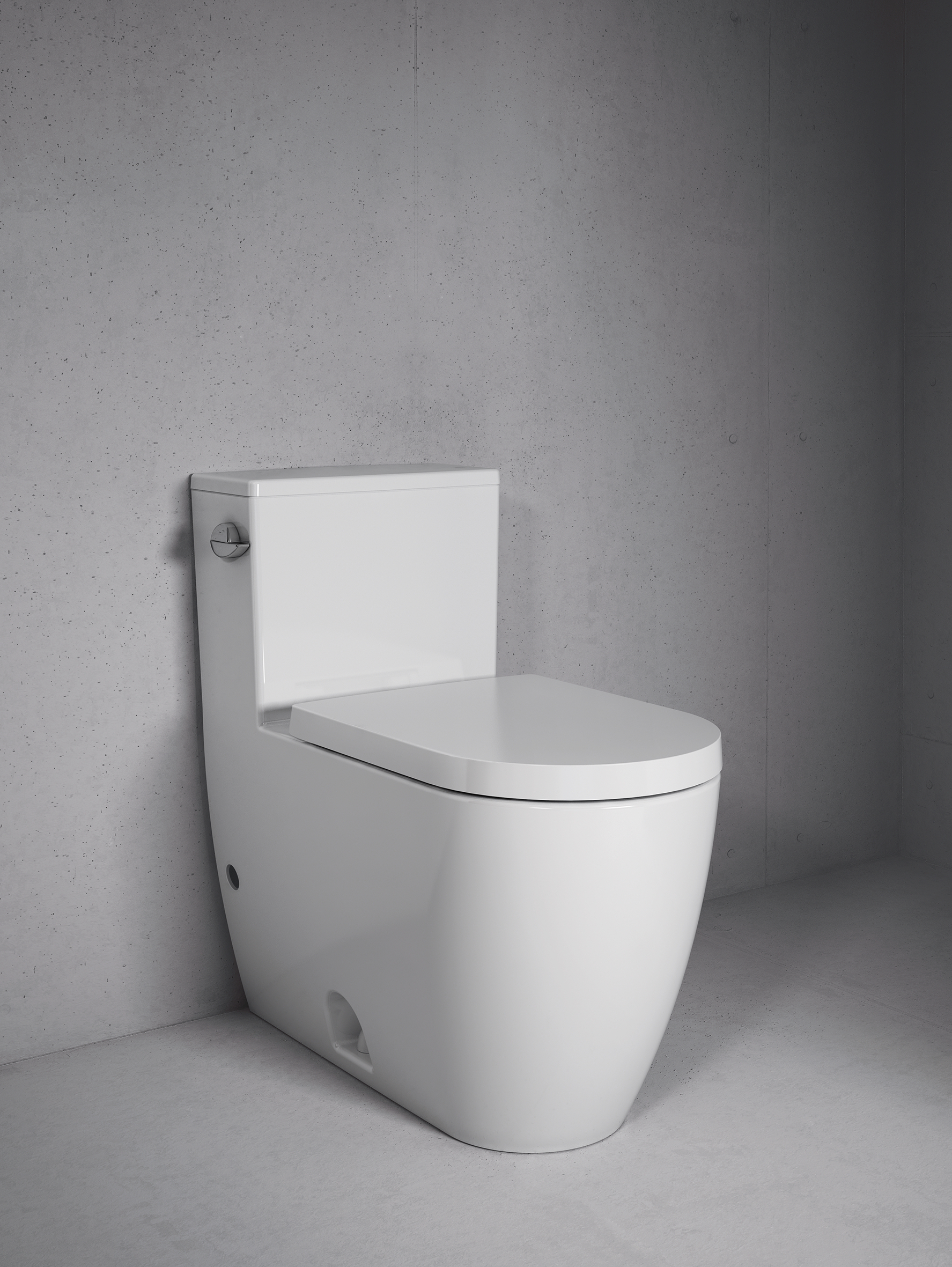 From top to bottom: Duravit's Happy D.2 Plus, ME by Starck and Viu
Why TOTO Toilets Have a Cult-Like Following
TOTO's Neorest NX1 intelligent toilet's sophisticated elliptical silhouette was inspired by the simple, organic beauty of an earthen vase hand thrown by a craftsman on a pottery wheel. Its artistry of soft curves and smooth surfaces adds a subtle, artistic touch to the bathroom. The Neorest NX2 dual-flush toilet similarly emphasizes curving lines but also offers Actilight technology. The bacteria-neutralizing ultraviolet light and a titanium dioxide-fired toilet bowl initiate a photocatalytic process that breaks down even microscopic waste particles. Uh-maze-ing! And you know what else all that incredible, techy cleaning means? No unhealthful cleansers swirling down your bowl and out into the environment. It's the cleanest kind of clean imaginable!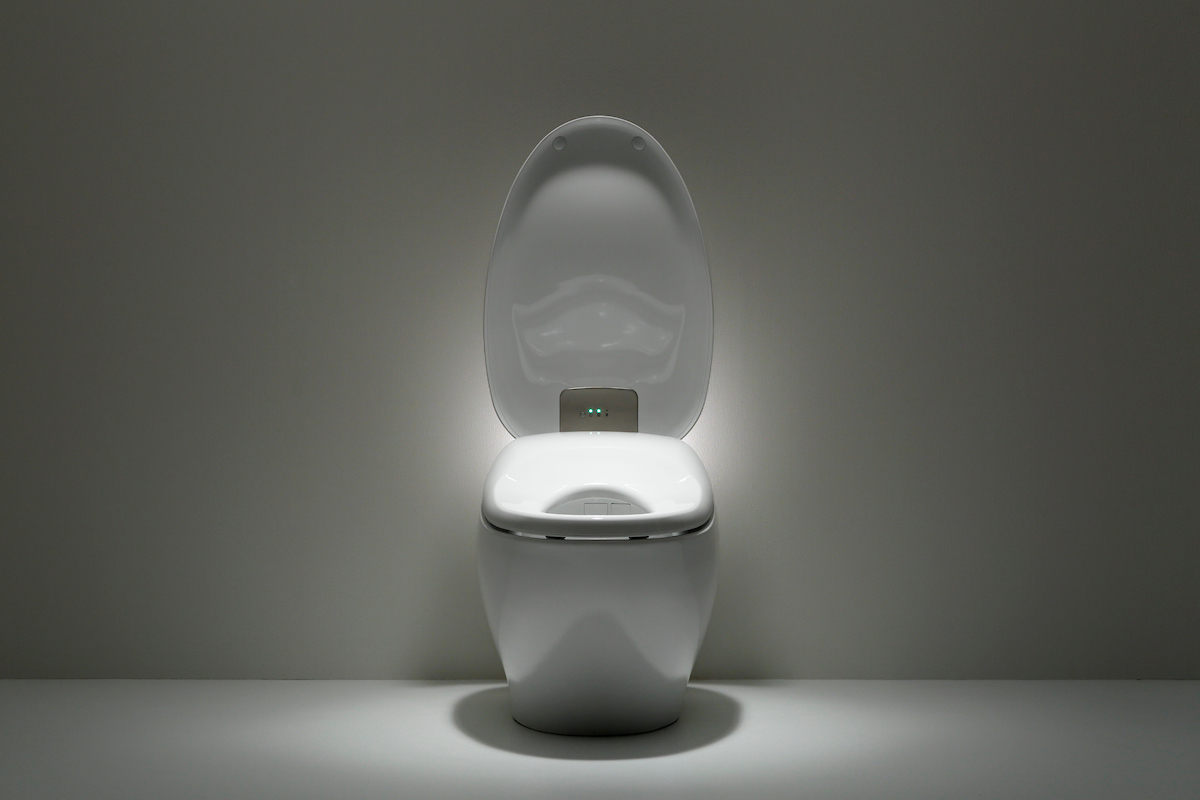 The Neorest NX1 from TOTO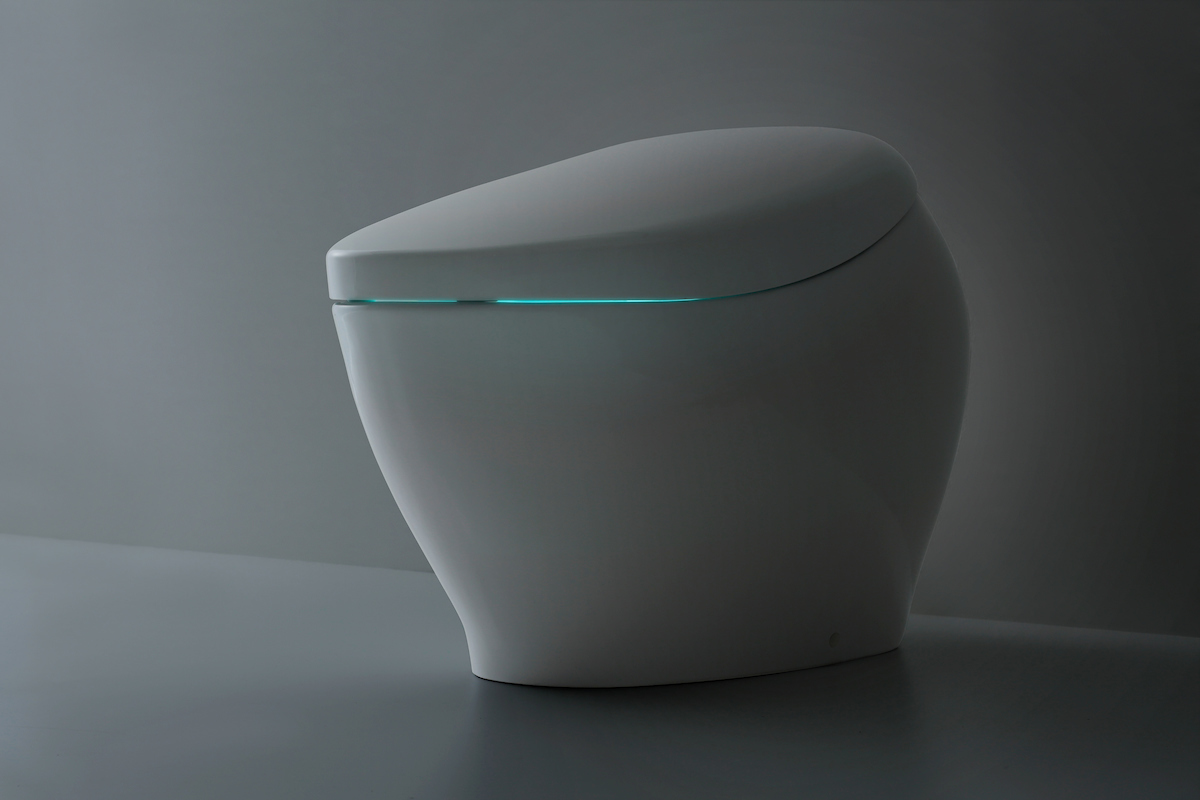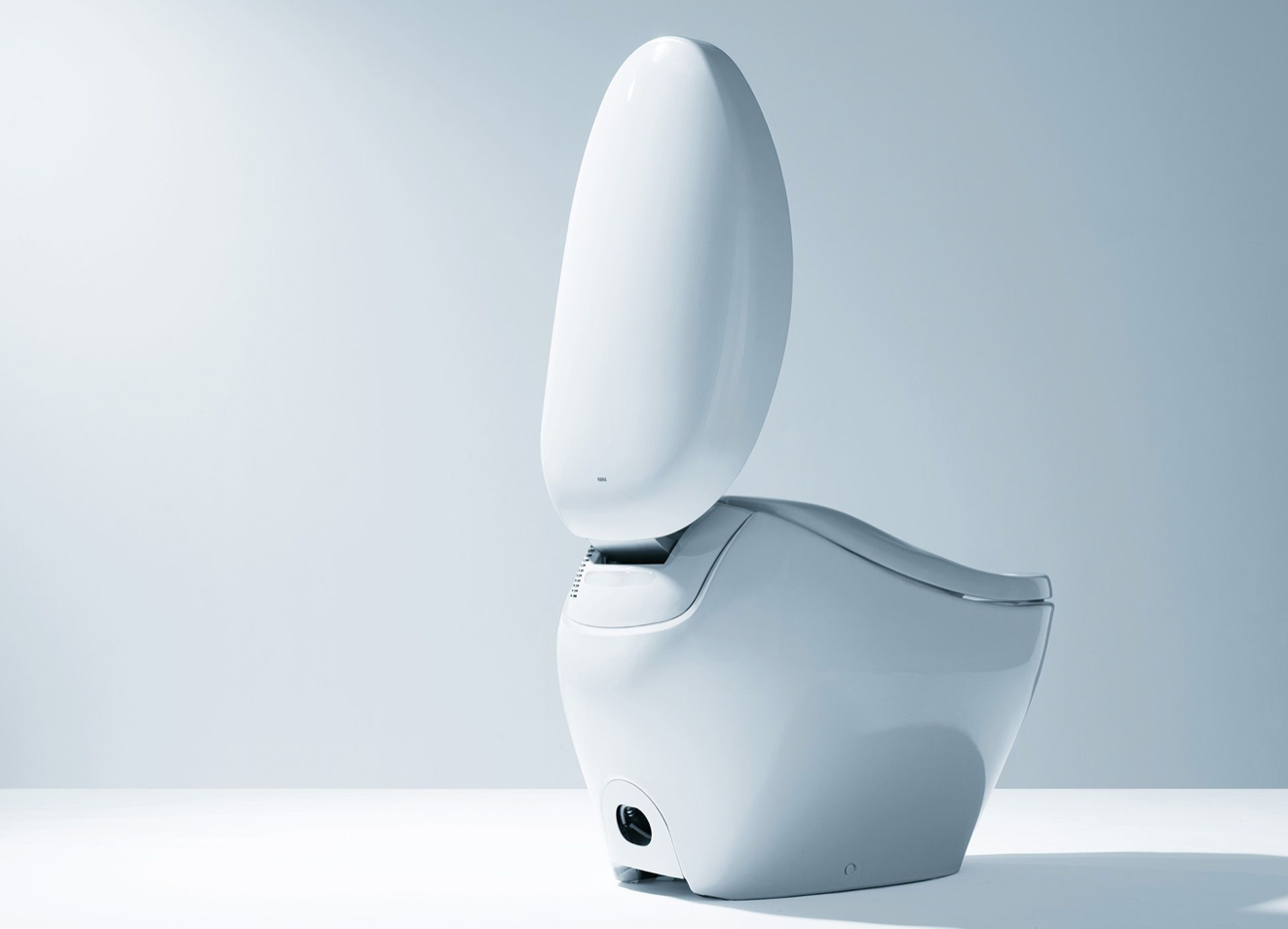 The Neorest NX2 from TOTO
Looking for something more traditional?
We asked our staff for a few of their favorite picks, and two of their top standards are the Kathryn toilet from Kohler and the new Karo II from ICERA, a local line made right here in Huntington Beach.
Kathryn's design has a 1930s feel, with its angular lines and molded edges. The one-piece toilet features a convenient chair-like height and compact elongated bowl for comfortable use, as well as a concealed trapway for sleek looks and simple cleaning. A 1.28-gallon flush provides significant water savings of up to 16,500 gallons per year, compared to a 3.5-gallon toilet, without sacrificing performance. This tank features innovative AquaPiston technology, a patented flush engine that delivers a fast, powerful, and virtually plug-free flush. It comes in an array of color options, too..
The Karo II offers balanced proportions and advanced engineering combine to create an exceptional toilet that hits the mark in style, comfort and performance. It's one-piece elongated toilet features the company's anti-microbial MicroGlaze for a beautiful finish that offers better hygiene and superior stain-resistance. The skirted trapway gives the design a clean finished look and allows for easier maintenance. Crafted of white vitreous china, the design is ADA-compliant with a chair-height bowl and includes thoughtful features such as a Duroplast soft-close seat with quick-release. As a high-efficiency toilet, the Karo II is designed with ICERA's signature EcoQuattro technology to consume just 1.28 gallons of water per flush.
---