PLUS: Which products he chose for his own Beverly Hills bath renovation.
This week we're bringing you the second part of our interview with designer Michael S. Smith. The first was all about kitchens, and this one is all about bathrooms: what he's planning for his own, what clients are asking for, and how to ensure there's a feeling of luxury in the space.
For his own home—the renovation of which you can follow along on his blog, The House on Mapleton Drive—the designer chose a range of classic products, including Icera, Alape and Lacava undermount sinks; Dornbracht's Tara collection fittings and accessories in platinum; Sterlingham towel warmers; Mr. Steam showers for his guest baths (lucky guests!); and DuraStyle and ME by Starck toilets from Duravit. We can't wait to see the finished design! Read on for his insight a few helpful tips.
A bathroom designed by Michael for a home in East Hampton, New York. Photography by Michael Mundy
Tell us about your approach to tackling the design of your own master bathroom.
"It was a bit like my original idea for the kitchen—wanting an all-white space but then realizing I needed to add a little warmth so that it was more reflective of the whole house. Originally, the bathroom was going to feature a really figured stone but it got too elaborate, so I had to simplify things. It's like playing the old game Operation. Maintaining the integrity of the house, and here it's slightly Deco/Modernist, sometimes means removing things."
Did you find it difficult to simplify your original plan? Any non-negotiable elements?
"There are so many choices out there but you can't really have everything. You have to stay true to the project as a whole. A steam shower and heated towel racks are luxuries I kept."
"When you make a tub the centerpiece of a room, it's a very powerful gesture…I think you feel an immediate sense of relaxation. It quiets the room."
A marble-clad bathroom designed for clients in Chicago. Photography by Björn Wallander
What are your thoughts on wellness and technology trends in the bathroom?
"Nothing more compelling than for the bath to be a retreat from the stress of daily life. I take baths all the time—for me, a steam shower is essential to feeling good. I do think it's a really interesting part of things right now, though, and I think it will continue to grow more and more. Saunas, especially ones with infrared light, are one of the most important things you could possibly have."
Are your clients asking for anything in particular at the moment?
"People are definitely asking for wellness items, things like Jacuzzi bathtubs. Those kinds of things are a must right now, a standard ask at this point. There's no bathroom that couldn't use a greater sense of wellness and luxury."
And what are the primary attributes of a beautiful, successful bathroom design?
"There has to be a balance between the materials and the architecture, and how it all comes together. Really, it's about fewer materials used well. And everyone ultimately wants the same thing: height, light and space. Though you don't always get all of those!"
"Something interesting happens when you bring a real piece of furniture into a bathroom: it becomes less utilitarian and more cozy."
A trio of bathrooms published in Michael's book Kitchens and Baths, published by Rizzoli.
Collaboration is Where Magic Happens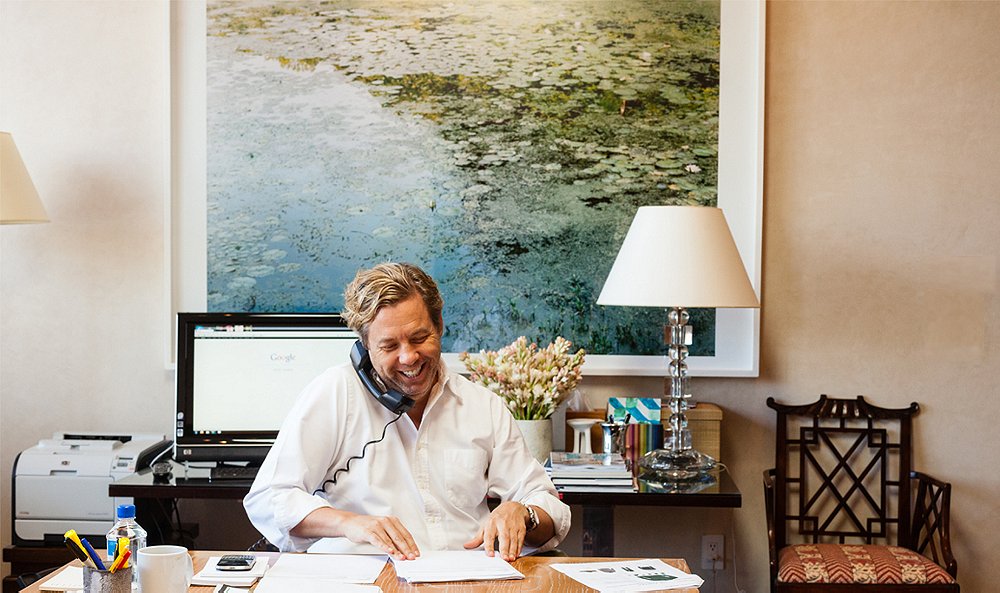 The designer at work. Photo courtesy One Kings Lane
Did you catch us on the Mapleton blog? We're thrilled to be included as one of Michael's top local resources. "I work with Snyder Diamond whenever possible, so I knew right away I wanted to collaborate with them for my own house," Michael recently explained. "They understand both the challenges of our business, and that we operate in a very customer-service oriented industry."
And did you know he's done three collections for Kallista? For Loft, Inigo and For Town are all seen below. Click here to learn more or stop by one of our showrooms to see them in person.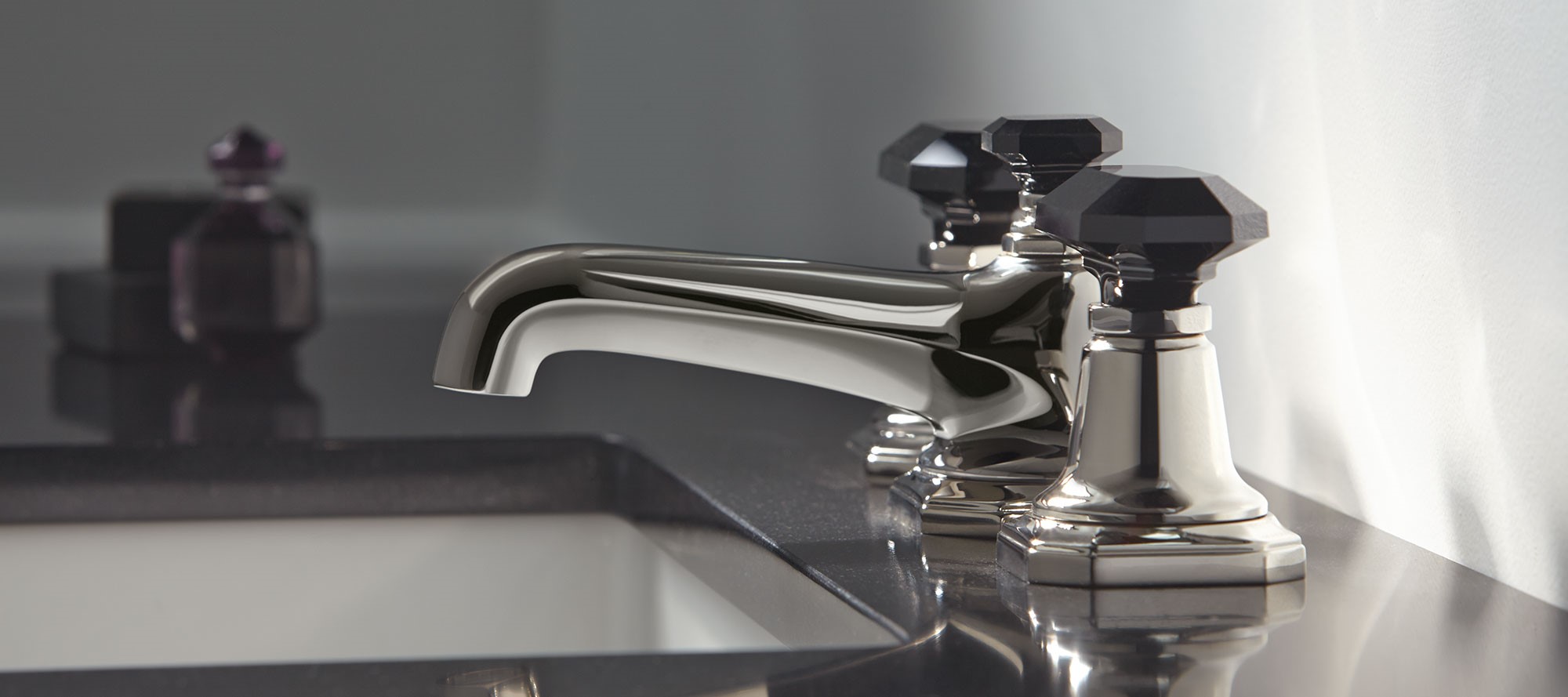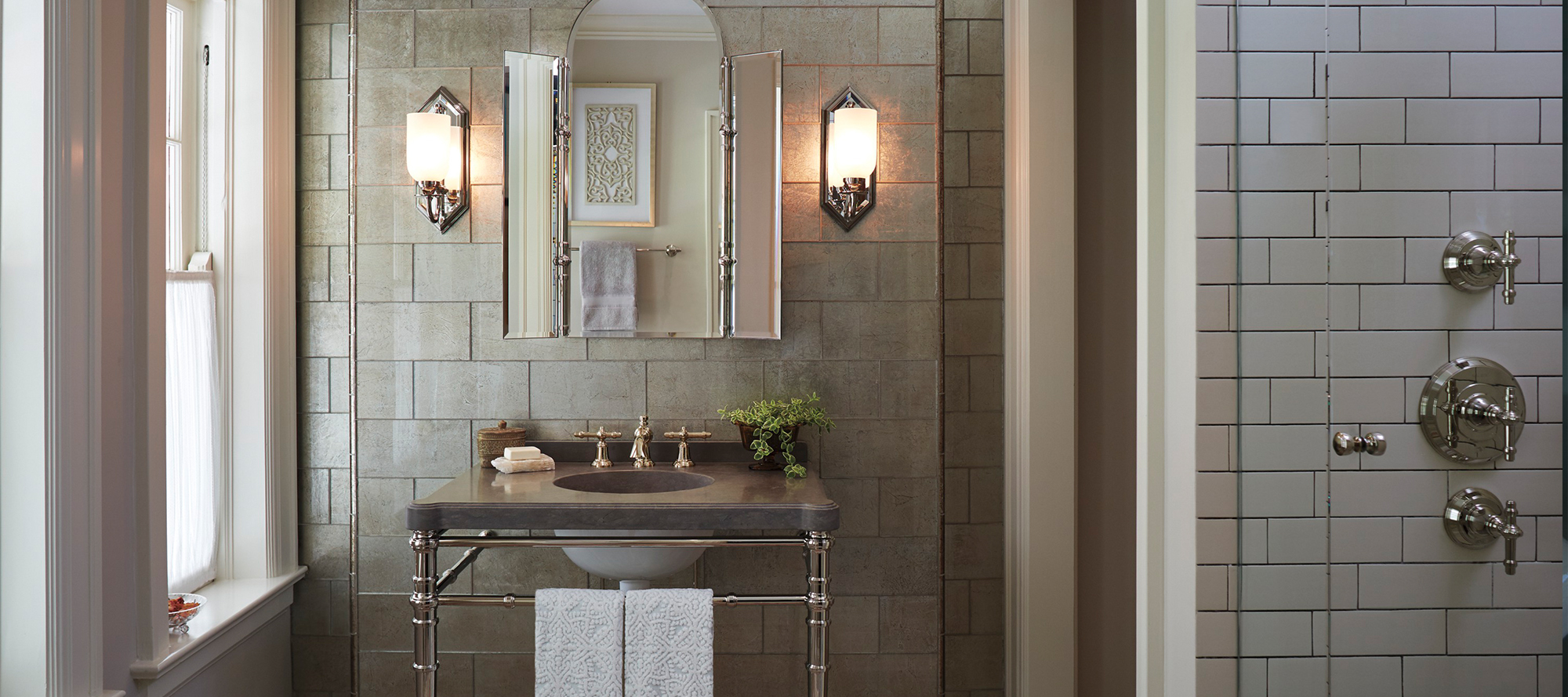 ---