When James Beard Award-winning chef Wylie Dufresne acquired his childhood home in New York City, renovating the kitchen was key. The veteran restaurateur, who is married to Maile Carpenter, Editor-in-Chief of Food Network Magazine, opted for a sleek, open-plan kitchen with stainless steel and wood as its primarily materials. Dufresne chose refrigeration appliances from True Residential, a brand that melds commercial performance with refined style befitting today's luxury homes. "So much about functionality of a kitchen is tied to movement within it," explains Wylie, who created distinct zones in the kitchen, like the end of the island, where he smartly paired a True Clear Ice Machine with a True Dual Zone Wine Cabinet. His choice of the True 42" Fridge means he can easily accommodate everything from fresh ingredients to left overs and lots of school lunches for the kids. Countering the stainless are soft gold touches like the CB2 barstools and the Jonathan Adler chandelier, for an altogether gorgeous, high-functioning kitchen.
So while on the subject of beautiful kitchens, check out the showcase kitchens designed by True to display the company's myriad custom-finish and sizing options. They're a great realization of new options and take an out-of-the-box approach to kitchen design.
The Greenhouse Kitchen breaks the familiarity of a side-by-side refrigerator and freezer by putting individual units at opposite ends of the worktop.
The Mountain Retreat Kitchen pairs a glass door refrigerator column with under-counter freezer drawers, ensuring the kitchen feels light and bright. The under-counter designs also help free up wall space to allow for large windows and expansive views.
The Cobalt Blue Kitchen is a bold expression of True's custom color options. The kitchen also features a trio of wine columns, which together hold some 450 bottles, creating an easily accessible, perfectly chilled wine vault to delight any oenophile.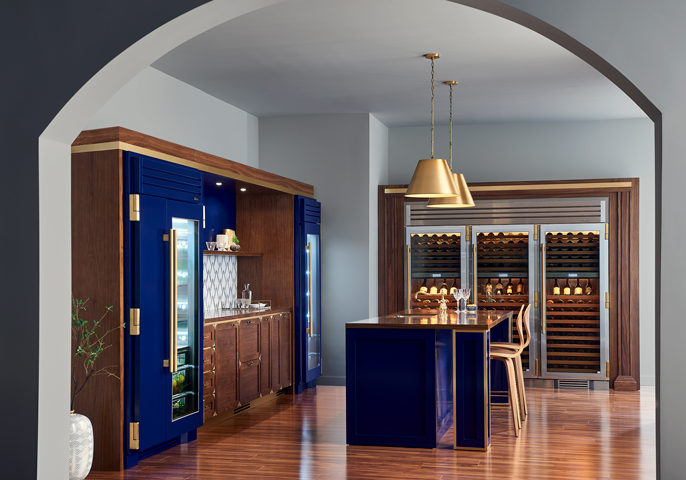 True's interior lighting schemes are also customizable, from neutral to a cool blue and the warm amber seen below.
To see more True products, check out some of our previous posts, or come visit us in one of our three Snyder Diamond showrooms:
New & Notable: The latest from Grohe, plus custom options from True and Home Refinements by Julien
New & Notable: True, Irinox and Thermador prove bigger is better