Enter here to win $1,000 towards your new Miele kitchen.
If you're looking for fast, healthy and smart methods of cooking, Miele's got you covered. But don't just take our word for it—hear what chefs Jason Kim, Kat Turner, and Mei Lin have to say and enter for a chance to win $1,000 towards a built-in Miele appliance of your choice at one of of our three stores.
In this 3-part video series celebrating our new collaboration with Miele, we've asked the talented trio to cook up their favorite dishes using their favorite Miele appliances: induction cooktops, combi-steam ovens and gas ranges. (Scroll down to read more about what each one offers.)
In the videos, you'll see Chef Jason Kim of Silverlake's Forage and Small Town turning family memories into modern Korean cuisine; Chef Kat Turner of West Adams' Highly Likely Café roasting a whole cauliflower (who knew you could even do that?) and Top Chef winner Chef Mei Lin of Nightshade making mouth-watering pork belly bao.
For well over a century, German firm Miele has been producing some of the world's most innovative, premium appliances for the home, and it's exciting to now see how these dynamic and game-changing chefs are using them to get even more flavor out of their recipes. Fair warning, don't watch these videos hungry.
A Closer Look at What Miele Appliances Can Do:
Induction Cooktops
Induction cooking uses an electromagnetic field to heat up a pan while leaving the rest of the cooking surface cool to the touch, making it a terrific option for small kitchens, warm climates and homes with children. The cooktop recognizes the precise size of the pan in use and only heats to its circumference—it's as mind-blowing as it is energy efficient. Miele's induction cooktops come in a variety of sizes (24-, 30- and 36-inch models), making them easy to install in virtually any kitchen. Plus, they're available in two styles, ceramic or glass, each with a sleek stainless-steel frame. They're speedy, too. The cooktops not only provide maximum convenience and safety, they are also equipped with innovative technology like the exceptionally fast Booster Functions and PowerFlex options. And with an intuitive interface, they are easy to operate. They are the ultimate in uncomplicated cooking.
Combi-Steam Ovens
Combination cooking is a terrific option for creating fantastic meals whether you're feeding two or ten. The Miele combi-steam oven fulfills just about every requirement and chef, professional or home, could want. As a steam oven, it has all the benefits of steam cooking (foods stay deliciously moist) but what sets it apart is its myriad additional oven functions: Surround, Top or Convection Bake, large or small grill, Convection Broil and Intensive. The true art of combi-cooking enables you to increase the humidity in the oven to optimize baking and roasting results—soft bread with a crispy crust and seared roasts that retain their juices. The ovens come in multiple sizes, with the Miele XL combi-steam oven offering extraordinary usability and capacity. It's an all-in-one kitchen wunderkind that virtually guarantees perfect results.
Ranges
With sizes to suit any kitchen, Miele's ranges are always a popular choice with our clients. There are three size options—30-, 36- and 48-inch designs—all of which boast chef-driven features and a focus on flexibility that let's you cook in myriad ways. The ranges deliver powerful, even heat with control you can trust, with built-in safety features like automatic shut-off, locking doors and a stay-cool exterior. All gas ranges feature an open-floor concept that allows for constant airflow, which creates even heat distribution, resulting in a rapid preheat and powerful bake and broil elements. With applications like Moisture Plus to keep dishes succulent, the Crisp function to reduces moisture and create a dry micro-climate (think crispy French fries), and a wireless probe that lets you keep tabs on your roast's internal temperature, home chefs can enjoy unparalleled peace of mind. For those who want a little extra help, the MasterChef automatic programs guide you through more than100 easy-to-use systems for baked goods, pizza, turkey, fish and more. Miele will deliver menu options that guide you step-by-step to the desired oven mode and temperature to create the perfect dish. We always have a hard time choosing favorites but we're especially fond of the 48-inch range's three-door concept, which brings together the M Touch Speed Oven, the M Touch Convection Oven and a push-to-open warming drawer. It's the epitome of versatility. And elegantly designed, too.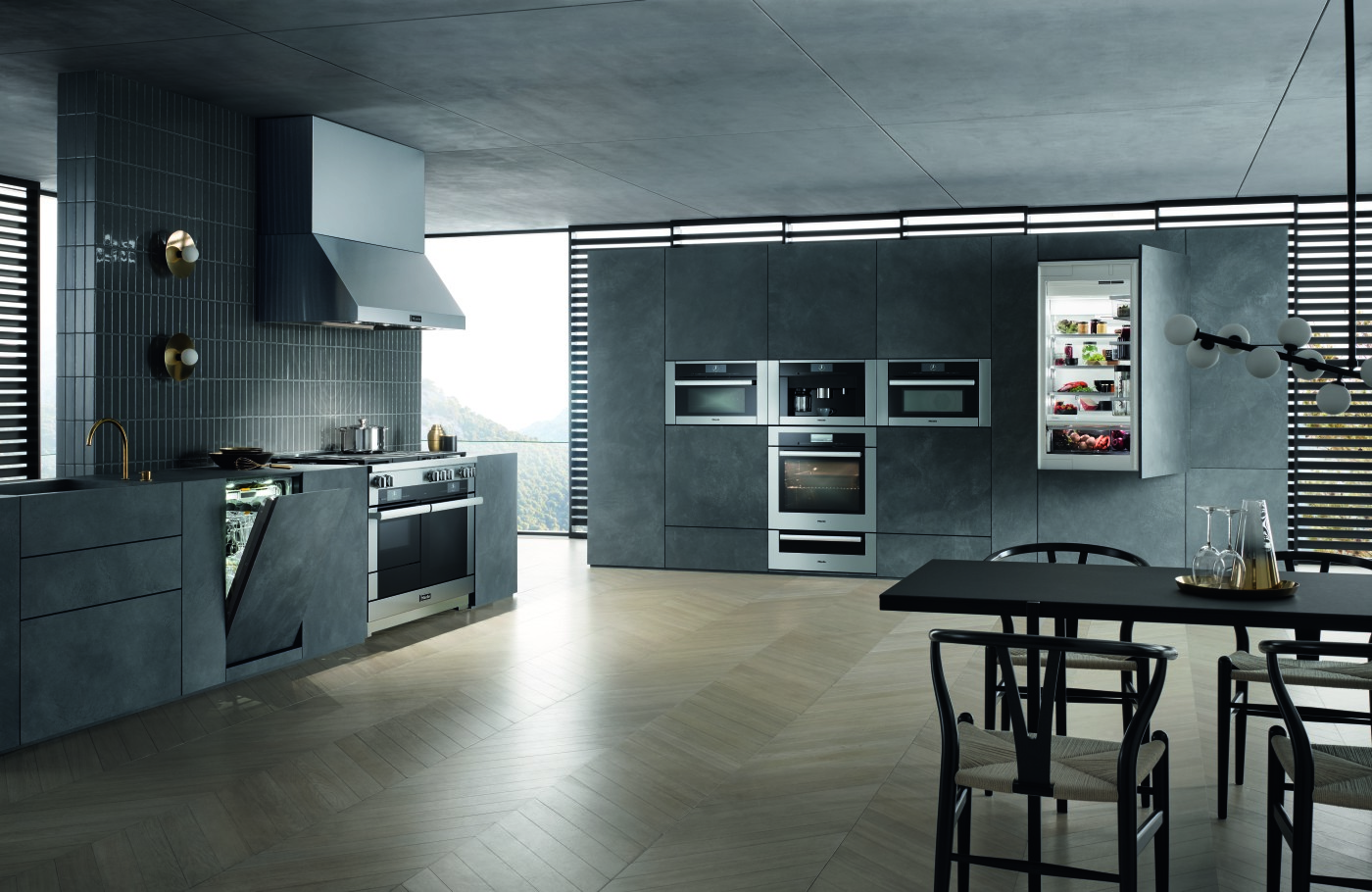 Contact Snyder Diamond to learn more about Miele products.
Snyder Diamond showrooms are open to the public but you can also make an appointment with one of our specialists:
Santa Monica
1399 Olympic Boulevard
Santa Monica, CA 90404
Phone: 310.450.1000
Adam Litberg: [email protected]
North Hollywood
12825 Vanowen Street
North Hollywood, CA 91605
818.286.9900
Jose Marcial: [email protected]
Pasadena
432 S. Arroyo Parkway
Pasadena, CA 91105
626.795.8080
Brian Cousens: [email protected]
All images courtesy of Miele
---