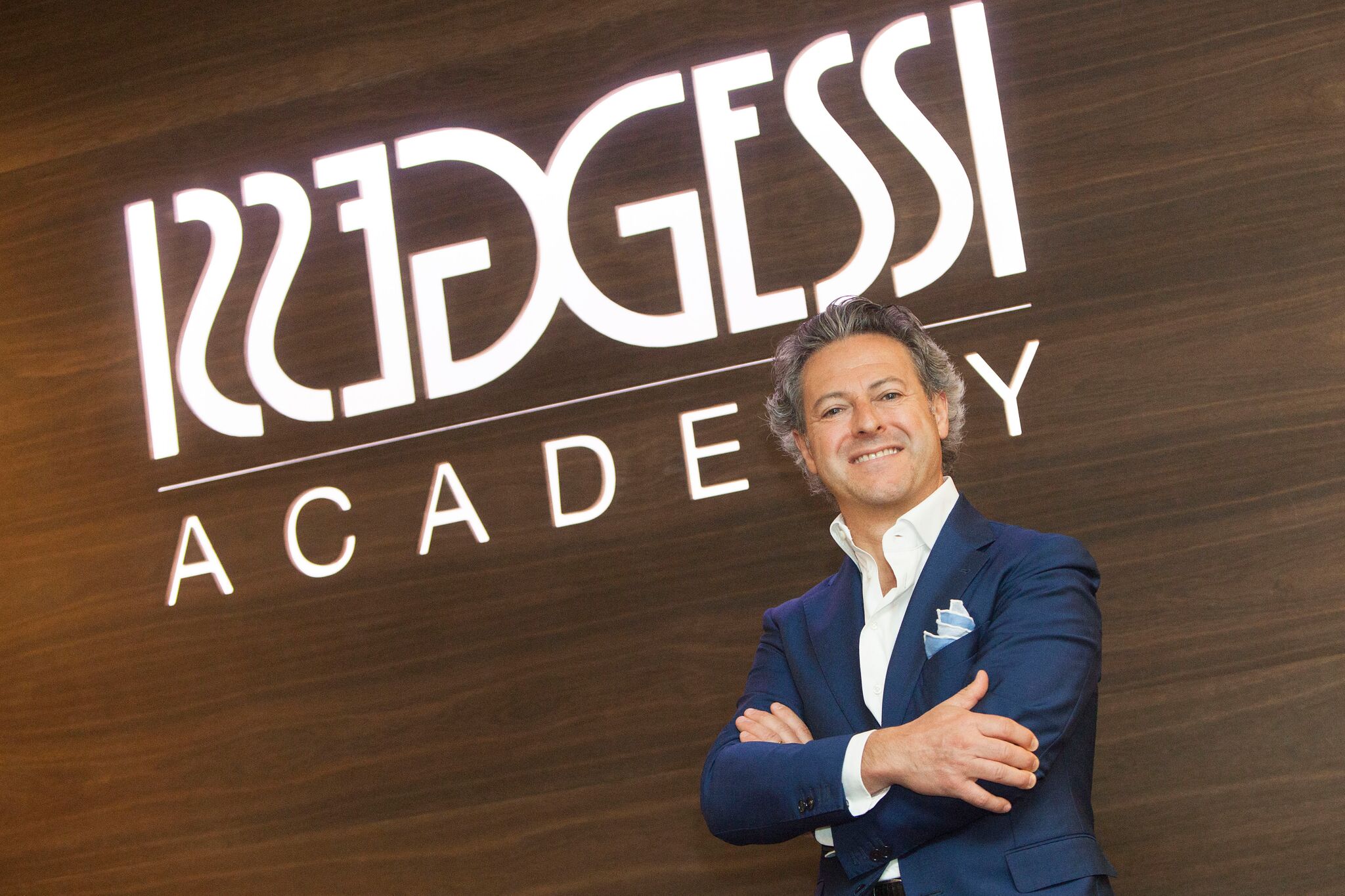 We've recently been asking Angelenos to show us around our great city, but ahead of Salone we've asked Gian Luca Gessi, CEO of luxury bath and kitchen faucet manufacturer Gessi, for a special "My Milan" in honor of our upcoming trip to the city. Click HERE for more information on our specially created Milan event list—a series of exclusive events designed to help create a sense of community for our friends and clients while traveling to Milan for the fair. But first, read on for Gian Luca's insider recommendations!
Gessi Milano (above) has become a must see for anyone who visits Milan. It's an exhibition center and resource space open to the city and to cultural and fashion initiatives, where different businesses can meet. The loft is over 16,000 square feet, with waterfalls and pools, surprising underground gardens and high-tech projections. The showroom presents a very refined selection of rare, unexpected, innovative materials for the bathroom environment (woods, marble, stones, wallpapers, covering cement, resins, metals and fabrics) and proposes different suggestions for the creation of outstanding interiors.
La Triennale di Milano is housed in the beautiful Palazzo dell'Arte (above), one of the most solemn examples of Rationalism Architecture, a traditional aspect in the majority of Milan. It holds exhibitions, conventions and art, design, architecture, fashion and cinema events, amon others. As the first Italian design museum, it gives the visitors the chance to discover the excellence of the Italian design through innovative points of view.
The Katara Suite (above), inside the Excelsior Hotel Gallia, was recently chosen as the most beautiful suite in the world. With a unique majesty, the suite combines the best of Italian design, including Gessi fixtures for its bathrooms and private spa. The Excelsior Hotel Gallia, recently brought back to its antique splendor, has been an icon of luxury hospitality since the early 1900s.
Il Salumaio Restaurant in via Monte Napoleone (above) is just a few steps away from our showroom and is an exclusive restaurant with a unique atmosphere. This magical place allows clients to taste typical dishes of the Milanese tradition in the exciting setting of an inner court located in an aristocratic home, Palazzo Bagatti Valsecchi. This historic house museum (below) is one of the jewels of the Milanese culture.
Brera District is one of the most charming spots in the heart of Milan with its art galleries, niche perfume boutiques, art and antiques shops, the stunning gallery and the Accademia di Belle Arti di Brera, founded in 1776 by Napoleone Bonaparte.
Porta Nuova District, Gae Aulenti Square and the new skyscrapers. In particular, Bosco Verticale, which was chosen as the most beautiful skyscraper worldwide because of this city's ability to reinvent itself and create its own image in the future as a historical city, where strong Roman and Renaissance architecture stands out. Not to forget the Leonardo Da Vinci's Navigli District, the brilliant Italian architect Giò Ponti's Pirelli Tower and important worldwide features of the architectural avant-garde: Rationalism, Brutalism and Eclecticism.
10 Corso Como (above), located inside the court of a typical home in Old Milano, is a place as unique as its founder, Carla Sozzani, a famous editor of one the most important icons of the universal style, Vogue Italia. Here, visitors can entertain and enjoy themselves with palms, jasmines, charming restaurants and cafés, expositions and galleries, art bookshops, design, architecture and a concept store of fashion, accessories and perfumery.

Town House Galleria, designed by Ettore Mocchetti, founding editor of AD Italia, is the only 7- star hotel in the world and we are happy to say that it is also enhanced with Gessi faucets. This luxurious hotel is located in one of the major landmarks of Milan, Galleria Vittorio Emanuele. (All seen below.)